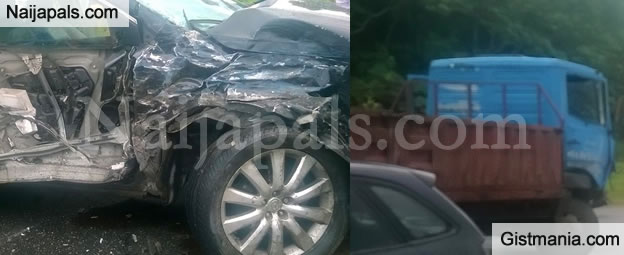 A young man is filled with nothing but thanks to God for rescuing him from a ghastly motor accident in Rivers state. The man who was being driven in a Mazda SUV with others – revealed that their car was hit by a heavy duty truck which lost control and veered off its lane. But he came out unhurt from the crash. Read his testimony below;


Quote

Thank You Father For Saving Us
Ordinarily, I didn't want to talk about the accident that occurred on Saturday until an inner voice spoke to me to say: "You haven't expressed enough gratitude to God".
Yes, we had an accident on Saturday at the Emohua end of the Choba/Emohua River bridgehead. A heavy duty vehicle veered off its lane to hit us. My friend, Zeismer I. Evans Osi drove us in his Mazda SUV. He did everything humanly possible to dodge this vehicle that had lost control but the driver still changed direction to hit us. More like a vehicle on a mission. It was terrible, I must say. God saved us.
I sat at the passenger's side where the hit occurred. The impact was too much. The vehicle was badly damaged but God saved us. I came out of the car unhurt. No cut, no injury. I was not admitted in any hospital. I went to my house afterward. God did it for me and the other persons in the car. It's was miraculous. Thank You Father. For without You, we would have been gone.
For God made it clear in Psalm 23: 4, "Yea, though I walk through the valley of the shadow of death, I will fear no evil: for thou art with me; thy rod and thy staff they comfort me and in Isaiah 54: 17, "No weapon that is formed against thee shall prosper; and every tongue that shall rise against thee in judgment thou shall be condemned…"
I give thanks to God for saving me, Zeismer I. Evans Osi, Chioma Worgu, Gift Elenwo, Gift Enebeli and…Thank You Almighty God.