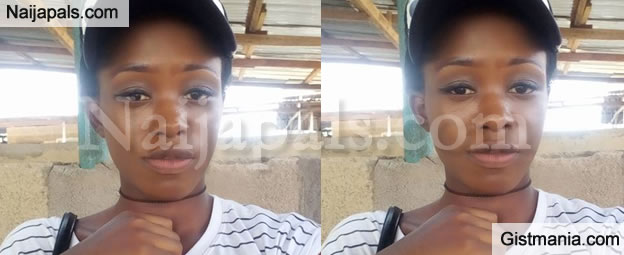 A Nigerian slay queen, Tiz Esmeral Omon who is a Facebook celebrity has been ridiculed, exposed and cursed on social media after her account was hacked exposing shoddy deals she did with guys. The student of Physiology, University of Calabar was left redfaced after a man hacked her account and exposed details of how she allegedly slept with different men she charged between N20k to N40k.
In one of the chats, she reportedly admitted to being bisexual as she also likes lesbians. Another chat also showed where she told a man to make sure he can last 8 rounds as she can't take less. Many called her a s*x machine and wondered if her boyfriend knew about her deals with men. The news of her sexcapades has attracted insults from people. While trying to clear the air, Omon threatened to kill a man by name Viper alleged to be the brain behind the leak.
She wrote: "All of u calling me bitches thanks...is s*x a new thing?? All this bull shit has only increased my fame, I don't care of what anybody thinks abt me,but m not a lez,I have a bf, but viper get this anybody that knows him should tell him am the last person you'll do this to,cause ya death end has come, I'll still use this account let's c who will get tired,I'll post my birthday is on the 12th and no bagga will spoil it for me..."
She added: "All of u that abused me yesterday I'll get back to each and everyone of u wen am done with him, I'll put my hand into evil and hurt all of u that has done this to me..I swear to God. Just knowing my real frnds now."
In another post, she added: "The person that has done tiz to me is Mary janne cause I exposed things she does,they hack my account and chat with gals so they could use that against me,and finnaly they've done that and make it look like its me they video me and he said hell post it online if I don't wana be he's friend and I told him I can't but I can give him money,and now I did not he posted it and this all this and u Albbie EL ya calling me a bitch!!! U did jot even care to ask if I could do this...well since he has done that he's life must go in for this, am not a bitch,I don't do gals I do guys ...someone hacked my account post what ever u like I'll still be using this account. But I promise u if yu make me go to juju I'll wipe out all ya family members...dah'real viper that's a good setupThanks but get ready too My account is hacked."
While giving herself a glimmer of hope, Omon wrote: "My downfall is a sign that something big is coming my way.. I'll shock u all."