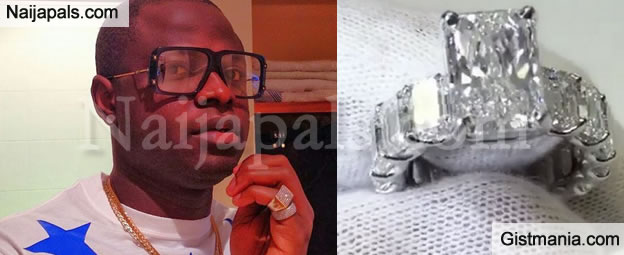 We narrowly missed this! So Nigerian Luxury designer, Michael Awujoola popularly known as Malivelihood two days ago posted on social media a DIAMOND RING of N51m. What the luxury designer wrote while making the post was; '51 million Naira make her happy #malivelihood'
So many of his fans were quick to say the ring looks nice and couldn't stop talking about it, especially since he bought her a house of $1.5m just in February as a Val gift.


However, some have other things to say. Some said the ring is too expensive and can actually turn their lives around for good, while some said, his girlfriend will have to protect that particular finger all the days of her life. Lol. So many hilarious comments…. Check some of them out after the cut. I can't with Nigerians, just can't!

malivelihood51 million Naira make her happy #malivelihood #mustsee
yemisiadefarakanWaooo beautiful
mr_tumiez tf
erichierk☄️
motunrayosmithWOW Beautiful…..
ashidapoHoly sh!t!!
mhiz_flawlessWho is buying it for me..
modesolamiHaaaa
officialchidimaU can As well make me happy bro
ms_bube1I tap from this blessing
pelxusAbeg I dont want her to be happy for the rest of her life
sainttracysHope it's okay, I Reposted, it's beautiful
orowofaith21Wow
[email protected] Lolss werey
lagos_investment_hubLmao "make her happy" indeed. The ring is nice!!! But just Engage your 9ja bae with 51M worth of diamond ring and see if she doesn't die trying to protect her finger. Its more like putting her in trouble. BIG trouble. Hehehe
princeval4luvHmm that money can give me a live investment of 24 one bedroom flat.
Published at:
01:47 PM, 11/09/2017 (1 year ago)
Author:

CLARA JANCITA
Problem with this article? Please email reporter[at]naijapals[dot]com or visit our contact page
---