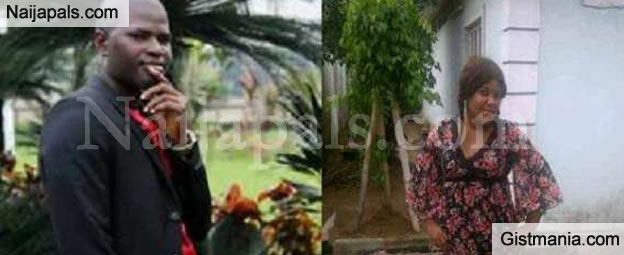 A friend of the married woman who allegedly died alongside her equally married lover while making love inside a car in the Ogba, Ikeja area of Lagos State in the early hours of Sunday, October 29, 2017, has come out with another damning evidence about her.
Recall that the deceased, Nse Promise Nnena alongside her alleged lover, Olowo Lukman Olayinka, were found dead inside a Toyota Corolla car around Abisogun Leigh Street behind the Nigerian Institute of Journalism [NIJ], a stone throw from the Area 'G' Police Command.
While the police are still investigating the circumstances surrounding the deaths of the illicit lover, a lady who claims to be a close friend of Nnena, has spilled the bean on her, saying she was so promiscuous and kept different men. The friend who wanted to be identified only as Mimi, spoke to a journalist on the disgraceful death of Nnena, saying she had warned her several times to desist from the wayward life she was living and concentrate on her family to no avail.
Mimi added that Nnena was all about partying, drinking and sleeping around with men, not minding the fact that she was married and had children.
"It is a pity that Nnena should die in such a horrible and disgraceful way," Mimi began.
"I really feel pity for her children and the husband. It is not only embarrassing but highly shameful to die in such a manner owing to your misdeeds. I know it is un-African to talk bad about a dead person but I must say that Nnena was the architect of her death. Yes, Nnena was my friend but we always quarreled over her way of life. She loved partying, clubbing, drinking and enjoying herself to the fullest and anytime I warned her, she would take offence.
She had this belief that life was meant to be enjoyed and no one had a right to tell her what to do. Even when I told her to slow down because of her children and husband, she would tell me to mind my business.
I knew she kept several boyfriends and slept with them regularly and all my attempts to make her change was met with stiff resistance. Her husband knew she was cheating on him and had tried many times to stop her but she refused.
In fact, shortly before she died, Nnena told me that her husband had filed for a divorce. She said she was even happy that she would be free to live her life the way she wanted without anyone pointing out the fact that she was married.
She could leave her home in the evening and go off for an all-night party without caring for her family. I even heard that on the day she died, she and Lukman had gone for a party where they drank heavily. I knew she was dating Lukmon and I had warned her about it because they live in the same compound but she refused to listen. Now see where it has landed her. I also knew three other men she dated and would sneak out to meet them even when her husband was at home. It is a real pity and I wish other ladies would learn a lesson from what has happened to Nnena and stick to their husbands instead of jumping from one man to the other," Mimi concluded.