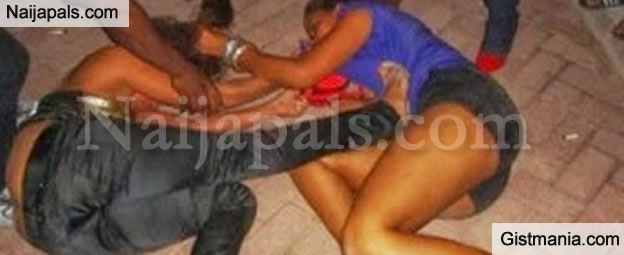 A commercial sex worker at Ilasamaja area of Lagos, identified as Amarachi Okereke was arraigned before Isolo Magistrates court on Tuesday for assault and fake information.
Amarachi reportedly lost a certain N32, 000 she kept in her room which she claimed were proceeds from her services to various clients.
Instead of searching for the lost money, she accused four other colleagues of hers: Akpan Cynthia, Blessing John, Loveth Bassey and Grace Okafor, of stealing the N32,000 and reportedly attacked them, which led to a serious fight among five of them.
While the dirty fighting was on, a team of policemen got to the scene, arrested the five ladies and took them to Area D Police Command, Mushin.
During interrogation, Amarachi was unable to prove how the other four ladies broke her room and stole the money. She was subsequently charged for assault and false information.
In court, she pleaded not guilty. However, the presiding Magistrate, Mrs. A.O. Adedayo, granted Amarachi bail in the sum of N50,000 with one surety in like sum.
Meanwhile, Amarachi was remanded in prison custody pending when she will perfect her bail condition. The four other women were released after standing as witness on the alleged offence committed by Amarachi.
As she was taken to prison, Amarachi wept bitterly and lamented that her money was stolen and at the same time she was sent to prison.