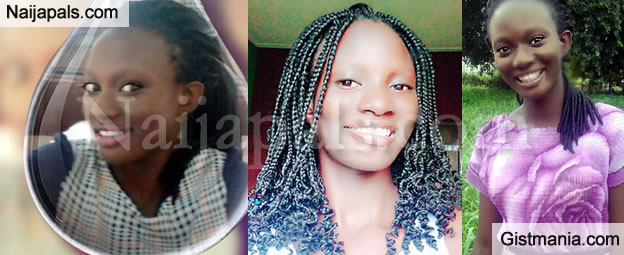 Timothy Afolaranmi, the brother to late Mercy Afolaranmi , who allegedly committed suicide over poor grades has debunked reports about her sister taking her own life, insisting that she was murdered.
According to Timothy, there was no way his 16-year-old sister could have committed suicide as she was a devout Christian.
Recall that Mercy, a 100 level Microbiology student at Abafemi Awolowo, Ile Ife, Osun State, reportedly took "rat poison mixed with battery extract" because of her poor grades.
The Chief Security Officer of the Institution, Babatunde Oyatokun, reported that she died before reaching the hospital.
Timothy in his comment on a post shared by the deceased before her death noted that the post showed how deeply religious her sister was, adding that she couldn't have committed suicide over her poor grades as being speculated.
His post reads,

Quote

"This girl (Mercy) made liquid soap for sales; she did that on Tuesday. She knew how acidic the constituents of soap is, she could have killed herself with that. Why stressing herself to the extent of getting batteries and rat killers? She was due to have a seminar presentation in Ekiti on Thursday or so…she had her presentation all jotted out; why will she disturb herself and write out her presentation when she knew she wanted to die?

"If a suicide is committed, it's a painful death and it's self inflicted. Why will her room be scattered and her vomit scattered around the room? She could have just vomited at a place, endure the pain and give up the ghost. She had a roommate. They had issues this semester. Recently, they weren't cooking together, which showed they had differences between them. She (the roommate) was the one who held her phone all through Wednesday. Why? She wouldn't allow anyone to speak to her all through Wednesday, saying she's busy resting, why?

"She's a devoted Christian… She went to her pastor on Sunday and raised three questions. One on evangelism, the second, I don't remember, and the last was how to manage a relationship between two female friends. Why? It was because of the issues between her and her roommate.

"I'm her brother. I know her more than anyone else. I seldom visit her in school. She had not always been the best in her class, so she knew life is a competition. She understood well that life is not about school results, because she had good examples from her brother and sister. She knew the money we gave her was not from school results, but from societal intelligence."



Timothy said although the family had accepted its fate, he believed she was killed.
Problem with this article? Please contact us
---