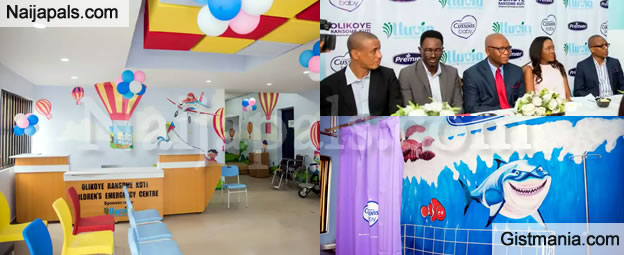 Lluvia Health organization, Cussons Baby, and Premier create child-friendly healing environment at the Children's Emergency Centre, LUTH. Lluvia Health Organisation, an NGO focused on child and adolescent health partnered with Cussons Baby and Premier to transform the Children's emergency center of the Lagos University Teaching Hospital (LUTH) to a more child-oriented and healing friendly ER using wall murals. The renovation also included donations of state of the art bedside monitors and bed screens to combat child mortality and ensure that patients' rights to quality health care, dignity, respect, and privacy are upheld.


The project was based on research which showed that the hospital environment could play a positive role in healing by utilizing the right art, music, lighting, and nature. This "healing environment" was observed to be absent in most hospitals particularly the children department of public hospitals. It was based on this that Lluvia Health Organisation sought child-friendly and health-related brands like Cussons Baby and Premier to partner within bridging the gap.


A consultant pediatrician and the hospital's Head of Accident and Emergency Department, Dr.Yemi Osinaike said the project was "an amazing dream come true. It is an amazing project that has been delivered which will significantly go a long way to help us reduce mortality that our children come down within this part of the world. The thing that they've done is that they've created an environment where children can be attended to that will enhance the feeling, not only of the child but the doctor who is taking care of him/her. It is a laudable project that Lluvia Health Organisation, Cussons Baby, andPremier has undertaken and for which we are very grateful."


In attendance was Prof. Chris Bode (Chief Medical Director, LUTH), Dr. Amenze Iyoha Eguavoen (Director, Lluvia Health Organisation), Taiwo Olujimi (Regional Africa Director for Personal Care), Mallam Tahir Mohammed- (GM, Corporate Affairs, PZ Cussons Nigeria PLC), Tobi Oyenekan (Cussons Baby Brand Manager), Dr. Yemi Osinaike (Head, Accident and Emergency, LUTH).