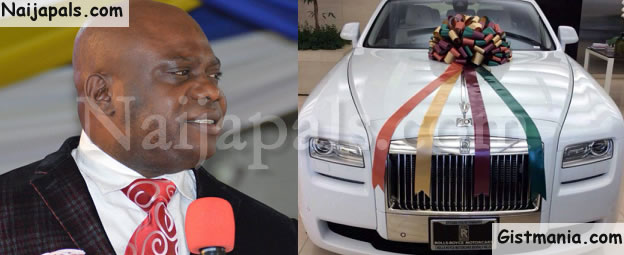 On 29th of October, 2017 the General Overseer Apostle Chibuzor Gift Chinyere, played host to more than 2-million church parishioners, friends and well-wishers all under one roof at his 580 plots of land Mbodo Aluu Omega Power Ministries Worldwide Church Prayer Ground in Port Harcourt Mega City, for his birthday!

He was presented with a Rolls Royce at the occasion but he rejected it. In a chat with City people, he tells why he rejected it, read excerpts below:



Quote

Can you just imagine that my church elders came together and bought a Rolls Royce Car gift for me, but I rejected it? Why? I told them to sell the Rolls Royce saloon car and use the money to build 30 more Free Schools for poor pupils whose parents cannot afford to pay fees. From the Bible reading of John Chapter 21 verses 6… are today are disciples doing the right thing? Read John chapter 8 verses 32″ And Ye shall Know the truth and the truth shall set you free…" that certain caliber of people are doing the wrong thing does not make it right.

Every Pastor in town is building private schools using church offerings and tithes in building big schools and put the fees at some say N500,000 to N700,000 per child. This is wicked. Early Missionaries came with the building of missionary hospitals, Missionary schools and the worst thing is that most of the pastors building big schools and charging prohibitive fees all of them attended Missionary Schools. Omega Power Ministries is not just a church, but it is a Movement to reposition the people. God sent me on a Mission saying "'my son they can hate you but you have to do the right thing. There is Cabals in Pentecostal Fellowship of Nigeria—PFN and I refused to join them.

Once you join them they will tie your mouth and you will be defeated. Many people will not understand what OPM is doing in building Free Schools; I am ready to starve myself to feed the poor. OPM Free restaurant is Open to all whether you worship with OPM or not I am ready to sleep on the street to accommodate the poor. There is need for free Schools in most parts of the country such as in Ondo state, Lagos state, Imo state, Rolls Royce car for my Birthday, why should I drive Rolls Royce car when there are many children not going to school.

We need to open Free schools, Material things do not move me what moves me is Heaven, in Heaven you don't age as you are renewed. I don't need a Rolls Royce I need more money to build more Free Schools. I built Free estates and I went and brought Free sex Girls (Prostitutes) and accommodated them. I first got them Baptized 36 of them 9 are now married.



ON CRITICISM OF OPM AND ATTACK IN SOCIAL MEDIA
"I directed my OPM Media team not to respond to any attack against me on Social media. I said "Show them love" They say we use coconut –come I will dash you some coconuts. Many people are afraid because their source of fraud is being exposed. The best sermon is to continue to do the good thing. My birthday was on 22nd of October and by next birthday I will be opening 30-more Free schools. You cannot use evil to attack evil—show them Love. If you have love, you cannot collect money from offering and tithes and build big schools and deprive the church members' children from attending that school because of high school fees".
---