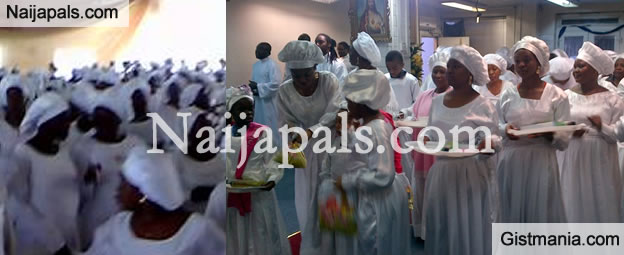 Three persons, a mother and her two children have been killed inside a Celestial Church of Christ by unidentified gunmen suspected to be criminals in Lagos.

Two persons in connection with the alleged murder at Temu village in Ikosi Ejirin Local Council Development Area of Lagos State have been arrested according to information released by the Lagos State Police boss, Imohimi Edgal who said that investigation has commenced over the murder of the victims.

The sad incident happened at Temu community around 2.am, on Tuesday when the assailants scaled through the fence, attacked and murdered them in a cold blood. The victims' names were given as Iyabo, (mother), David 4, and Rachael, 8.

It was gathered that the victims had travelled out of the community for two weeks and only returned on Monday and they were said to be killed over night. The victims who were said to be members of a Celestial Church of Christ were allegedly killed in the church, while the victim's husband was said to be absent when the assailants struck.

It was further gathered that the victims just moved into the community some months ago and used their home as a church. A resident of the area, Mr. Adeshina Idowu said that the death of the family took them by surprise.

He said, "The family moved into the community six month ago. We were surprised when somebody came to call me that Mama David is a dead. When I got to the scene, the assailants had killed the woman and her two children who were with her in their apartment. I don't know how the assailants got into the community, because we had security guards patrolling the community. How they entered into the victims' compound without the guards knowing remains a mystery to us."

Another resident who simply gave his name as Tajudeen said that immediately the incident happened, they informed Agbowa Police Division about the incident.

"What is our major concern in the community was that the family just returned to the village on Monday and they have been killed. Initially we thought it was an armed robbery case. But when we entered into their apartment and saw a stone used by the assailants, that was why we agreed that it was murder" he said.

According to Lagos Police Boss, "it was a clear case of murder. The landlady has been arrested and an 'okada' rider has also been arrested. One of the victim watched television throughout the night with one of the suspects in our custody. It has nothing to do with ritual killing as speculated"

Policemen from Agbowa Police Division were said to have evacuated their bodies and deposited it at mortuary as police intensified investigations.
Problem with this article? Please contact us