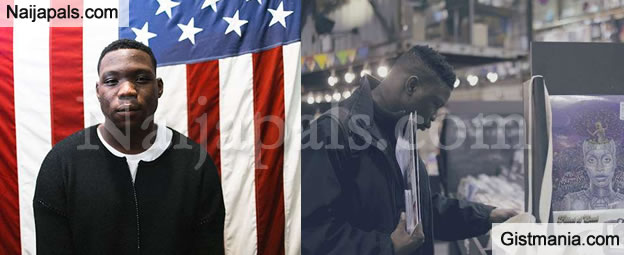 The nominations for the 60th Grammy Awards are in, and only one Nigerian makes the cut. His name is Tunji Ige.
While the 2017 Grammy had Wizkid and Kah-Lo as nominees, this time, Tunji Ige makes the cut.
The rapper is nominated as a producer on 'Location', a record by Khalid, which is up for the "Best R&B" award.
'Location' is the debut single by American singer Khalid. It was released on February 19, 2017, by Right Hand Music Group and RCA Records as the lead single from his debut studio album American Teen. The track was produced by Syk Sense, Tunji Ige, and Chris McClenney. The song has since gone Platinum.
Interestingly, Tunji Ige is more known for his work as a rapper, than a producer.
A black American in his early twenties with Nigerian parents, he has lived all of his life in the US. Born in Pennsylvania, He has enjoyed cross-cultural influences including the legendary Fela Kuti. But his top role model and influence is Kanye West who holds a special place in his heart.
"I'm really influenced by him as far as the whole aesthetics, from producing to rapping, so I guess an early version of Kanye, but I don't even wanna say that. I'm trying to get up to that level", he revealed to XXL.
"As far as making the best product possible, the way Kanye presents it is the way I want to present it, even with the limited resources I have, but I'm trying to aim for that level."
At age 14, Tunji started taking his own music seriously – putting to use a laptop, a sampler, and a vast record collection. Since joining the creative collective Brain Bandits two years later, Tunji has been developing his sound and carefully building a plan for bringing his vision to the world.
With the release of his self-produced debut "The Love Project," Tunji saw hundreds of thousands of plays and critical acclaim from music magazines like Pitchfork, Noisey and Fader, and most importantly – love from fans.
The tape arrived to considerable hype and positive press, and it has quickly racked up tens of thousands of plays on Soundcloud. Pulling together a wide set of sounds that drift from mainstream radio rap and electronic's party vibes to contemporary underground rap's eclecticism to the more classic sounds of soul, funk, and Afrobeat (a nod to Tunji's Nigerian background).
An industrious worker, Tunji tapped into his creative spirit early enough. "Coming up, I was doing a lot of stuff behind the scenes work," he said.
"I was editing videos, I was doing artwork, I was helping people doing designing and branding. For all the people in Philadelphia, there was a little small hipster spot (I don't even like using that word!), and I would be that kid at all the events and functions, people thought I was just doing video work, but I was taking notes the whole time. Seeing what I needed to do to get my product on that level when it was time to present it."
Ige's sound is closely likened to an early Drake, or Kid Cudi, with his personalized confessions and impressive melodies. His songwriting brings home his music, with various styles and messages incorporated to his projects. His dexterity at production is also of benefit to him.
The rapper acknowledged his Grammy nomination on Twitter, by thanking his co-producers on 'Location'.