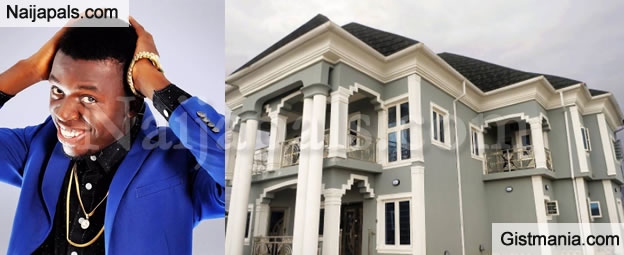 Jephthah Bowoto, aka Akpororo, speaks with OLUSHOLA RICKETTS, about his rise from humble beginnings, marriage, Yung6ix, and other things.

Was the turnout at your show, Akpororo vs Akpororo, what you expected?
I had a sold-out show, and I was so happy. I am preparing for next year, which will be the fifth edition. We bless God for the turnout this year and for making it a success. I must confess that this year has been good for me and you can see that yourself too. You can see that I am moving forward.

Do you have plans to venture into movies like some of your colleagues?

I would love to go into acting fully, but the job has to be good. If the scripts I get are good and the money is okay, nothing stops me from acting. The truth is, many directors have approached me, but I am usually not okay with the money they offer. I wouldn't take an acting job if it is not worth it. We all know that acting is time-consuming.

You seem to be a good dancer; why did you settle for comedy?
Yes, I dance quite well, but I have never thought of being a professional dancer. While growing up in Warri, Delta State, I went for competitions. I was very young then, my mother was always with me. I love dancing and it is even part of my craft as a comedian. You can see that I dance a lot on stage while performing. If I decide to take dance seriously now, I will still do well with it. My wife also dances well and it is certain that we must learn from each other. In the near future, I plan to dance with my wife on stage during my annual show.

Did you ask your wife to stop dancing after you got married to her?
Every man has what he wants or likes. Before we got married, we discussed how to live as husband and wife, and I don't need to share what we agreed to with the public.

How would you describe your marital experience so far?
We have been married for two years and we are still growing. I am grateful to God for seeing us through. When I look back, it seems like it was just yesterday that we got married. As I pray for a happy home, my wife prays too because we all want the best. I am happy that I have a home now. When you cross the bridge with the right person, you will be very happy.

For how long did you know your wife before you got married?
We had known each other for many years. Before we started dating, I was already a friend to her family; I mean the Xplicit Dance Group. You know she is a dancer. Though I liked her from the outset, I didn't show interest early because a colleague claimed they had something together. But three years ago, I knew I wanted to get married and I made my intention known to her. I let her know that I wanted her for marriage; I didn't even know she was thinking of marriage too at that point. For someone who is into entertainment, I think the best thing is to marry a woman who can stay at home. I know some entertainers don't mind getting married to someone in the same industry. Different things work for different people, but we should always pray to God for direction.

Is it true that your wife is an orphan?
My wife's father is still alive. But her mother handed my wife and her brother over to the founder of Xplicit Dance Group, Mr. David Abraham, when they were little. The mother did that because of certain things I am not at liberty to discuss. She is no more now, but the reason she asked Mr. David to be their guardian was more of a domestic issue and she felt they would do well with him. They were four children and she needed to keep them safe. When I first met them too, I thought they were all orphans. So, I don't blame anyone who thinks she is an orphan.

Why did you choose to build your house in the Okokomaiko area of Lagos?
I have my privacy because I have my own house now. I tell people that if you like what you see in Lekki, Magodo or Victoria Island, you can recreate it wherever you stay. That is what I did. Okokomaiko is not a place you should be afraid of living. Even in Lekki that we think is a place for the rich alone, there are some parts of the area that are not nice.I was born on the streets, so I cannot be harassed. I walk freely without fear. I also go to the field to play football with friends in the evening. The reason bad things happen to people is that their minds are full of evil. My belief is that anything you think of would come to pass in your life. In anything I do in life, I always look at the positive side.

Why don't you want to live in Lekki or any other highbrow area?
Okokomaiko is where I choose to live; it is my plan. If God asks me to move, I will surely move. For now, this is where I love and I believe being in the area gives hope to people. I organise a monthly programme tagged, Street Praise, where we come together to praise and thank God. We dance and encourage each other. I just love the place. I feel there is something about that area that makes people work hard. I am not interested in living in Lekki or Magodo for now. When the time comes, I will go there.

Why didn't you address the allegations that your wife was promiscuous while in the university?
I am an entertainer, so I didn't need to reply them. I am not normally a man to bear grudges. I have spoken about it in the form of a joke and I have moved on. Being silent has really helped me. If you followed the story well; at the end of the day, I won. Though I didn't talk, my fans later replied them. Yung6ix is my friend, we are not fighting. The problem was that the so-called DJ wanted to take it to another level, which was not needed. That should tell you that I am a God-fearing person. If I like fighting, I would have taken it up with the DJ. But I don't have that time.

Have you made peace with Yung6ix?
If you watch the second part of the video, you will know that I meant no harm to him. It was just a joke. When the second part was released, everyone calmed down. I believe the media also aggravated everything. If the media wants to scatter things, it costs them nothing. And if the media wants to arrange things, it costs nothing too. As an entertainer, you have to understand this. So, anytime they scatter it, you stand firm and whenever they build it again, you are there as well. A good name is better than riches and that is the legacy I am trying to maintain. I want to help the people around me. I understand that one cannot be good in the eyes of everyone, but I always try to give my best.

How are your parents?
They are fine. I don't just fancy the idea of sharing certain things on social media. Yes, I am an entertainer, but I choose to keep some things about me private. My parents are based in Warri, Delta State.

How many siblings do you have?
I am the eldest of five children. I have a brother who is a DJ and rapper; he is doing well in Warri. My mother's brother, known as Oga Prince, is a comedian too. He performed at my last show. He is funny, so people should get ready for him.

Is it true that Nigerian comedians are divided?
I don't belong to any caucus. I am on my own. Akpororo is a friend to all. I don't think there are caucuses because everyone in the industry gives me jobs.

What would you have ventured into if not comedy?
I might have been a musician or footballer. If I didn't do music, I would have pursued a career in football. I took football seriously before, but there was no one to sponsor me. I just had to leave it, but I still play football for fun.
---