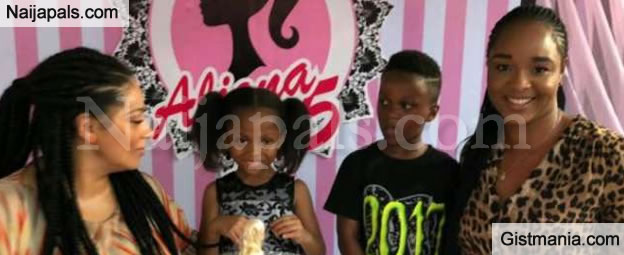 Peter Okoye's daughter, Aliona turned 5 on Monday, January 22, 2018, and she sure did have fun with her friends.
The beautiful daughter and second child of Peter and Lola Okoye played host to a number of her friends and the photos from the party show they really had fun. Her excited parents also took out time to celebrate their daughter as they sent her birthday wishes via their Instagram page.
"Today is a very special day my daughter, and not just because it is your birthday, but because it is the day when i first saw my angel. I love you my sweet Princess Aliona Marie Amarachi Okoye. HAPPY BIRTHDAY SWEETHEART," Peter wrote.
The birthday celebrant, Aliona, her mother, Lola Okoye and guest at her birthday partyplay
Just like Peter, Aliona's mother, Lola also wrote some heart whelming note on her Instagram page to celebrate her daughter.
Aliona and friends at her birthdayplay
"My dearest Aliona a.k.a Margaret Thatcher a.k.a Madam Kofo, our no nonsense boss lady! Happy 5th birthday. I have no worries that you will hold your own. Watching you grow up has been such an awesome experience, not a day goes by that I dont learn something new from you. You are so wise for your age. My darling daughter, may you only know... joy that makes you share, hope that makes you dream, friends that make you laugh, success that makes you rejoice and love that makes you love more."
"My wish for you is that this life becomes all that you want it to be. Good health, long life, prosperity and peace of mind is your portion in Jesus mighty name! We love you so so much. God bless you today and everyday as we celebrate you. You make our heart smile on the daily," she wrote.
Aliona Amarachi Okoye was on January 22, 2013 to the talented Peter Okoye of Psquare and his beautiful wife, Lola Omotayo Okoye.