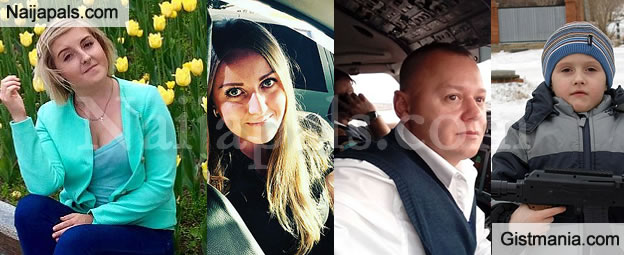 A 29-year-old air stewardess was killed when the plane she was working on 'broke up in the sky' just minutes after it took from Moscow.

Flight crew member Anastasia Slavinskaya was on the Antonov An-148 when it came down near the village of Argunovo, south east of the capital.

Her colleague, second pilot Sergey Gambaryan, 34, has also been named as one of the victims killed in the horror crash.

All 71 people on board the plane died and a source from Russia's emergency services said the 65 passengers and six crew members had 'no chance' of survival.

Shocked witnesses reportedly saw a burning aircraft falling from the sky and wreckage was spread over a large snow-covered field.

Flightradar24 tweeted that the aircraft was descending at 22,000ft per minute and chilling video footage shows debris 25 miles from the airport.


Flight crew member Anastasia Slavinskaya, 29, (left) and second pilot Sergey Gambaryan, 34, both died in the air horror today
The 29-year-old was working on the plane when it came down and crashed shortly after taking off
The youngest victim of the horror crash to be named near Moscow has been named as 12-year-old Evgeny Livanov (pictured)
Second pilot Sergey Gambaryan, 34, (pictured) was also on the flight and died on Sunday

Ms Slavinskaya (pictured) was one of the six staff members who were working on the doomed flight
The 29-year-old (pictured) was killed when the plane crashed just minutes after taking off
Stewardess Viktoria Koval, 21, (pictured) was also killed while she was working on Sunday morning
Lyudmila Kovchuga (pictured) was one of the 71 people who boarded the plane in Moscow today
Kriskentia Alexeenko, 25, (right) and Ulyana Son, 28, (left) were also killed after boarding the doomed plane
Flight 6W703 went missing just minutes after tasking off from Domodedovo Airport (pictured)
The plane was operated by Saratov Airlines and had just left shortly after taking off from Moscow Domodedovo Airport (pictured)
---