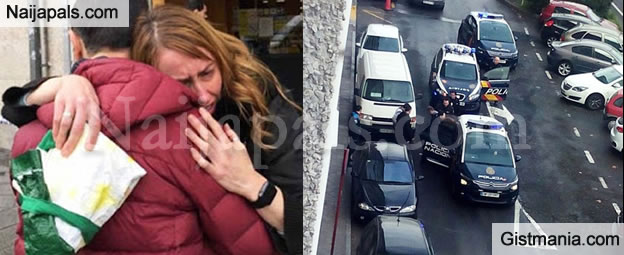 A 'gas mask' wearing gunman has been arrested after opening fire on a Florida high school, leaving at least 50 injured.

Police have surrounded Marjory Stoneman Douglas High School in Parkland, Florida, where the 'heavily armed' shooter, wearing a gas mask, opened fire with a 'long' gun at just after 2pm.

Cops confirm it remains an active shooter situation although there are reports that a student was seen fighting with the gunman in a classroom.

Police believe they know who the gunman is and describe him as a student and member of the U.S. Army Junior Reserve Officers' Training Corps program. Authorities said he was wearing a hoodie and has red hair and freckles.





Students are reportedly barricading themselves into their classrooms, while others were seen running out of the building with their hands in their air as police and SWAT teams swarmed the school.

Those fleeing the school, in single file, each threw their backpack into a large pile and huddled together under trees across the street.

The school district stated that the shooting happened shortly before dismissal time when students heard what sounded like gunfire.

Desperate parents and relatives of students still locked down in the high school rushed to the scene to find out if their children were among the injured.

One mother, Michelle, whose daughter is inside, said there at least 20 students and teachers still barricaded in the school buildings. The unnamed mom said her daughter sent her a text that said: 'There's been a shooting in school ... and it's for real.'


Speaking outside the police perimeter, she said: 'She was texting me up until about four minutes ago and now she's not responding and I'm getting nervous. Last she texted me she was in a building from across where the shooting was at. I'm on pins and needles because she isn't responding to me now.'

CBS Miami reporter Rick Folbaum said he was exchanging messages with a child still inside, who is hiding in a closet.

'I'm continuing to text with a student, a young girl who I know well, who is in the building right now who told me that she heard a loud noise and what sounded like gunfire, three shots', he said.

'She texted: All of a sudden there was a really loud noise…..people are crying the closet.'

Photographs taken by students inside the school show they are crouching behind piles of chairs and hiding behind desks.

There are reports that the shooter, wearing a burgundy shirt and black pants, may have fled the school, mixing in with the other students as they fled the building.

Video showed at least five people being treated by paramedics at the scene while students were led away from the school in a line. But reports show that many more were shot and injured.

The school remains on lockdown.

Coral Springs police have advised people to avoid the neighborhood while the active shooter situation is underway.


---