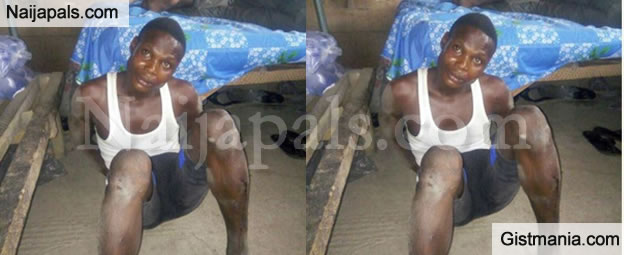 A thief who was caught red handed during a robbery operation in Sapele area of Delta state - did the unthinkable after deciding to defecate in his victim's house.

According to reports, the robbed compound had been under series of attacks by hoodlums who steal properties and other valuables before the capture of the suspect.

On Tuesday, a group of robbers attacked the compound again and were spotted by neighbors who shouted for help. The other gang members jumped the fence and took to their heels abandoning their colleague in the process.

When the nabbed suspected was interrogated, he said he was pressed that's why he jumped into the compound to defecate by 1am before he and his guys decided to use the opportunity to steal from the compound.

The young man was locked in a balcony as the people who caught him went to call soldiers who were staying close by. Before the soldiers could come, the suspect had already defecated in the balcony to "prove his point".

According to reports, he was beaten mercilessly before he was taken away by the soldiers to look for his other gang members.

Posted: (2 years ago) at 15-02-2018 11:06 AM | Hero