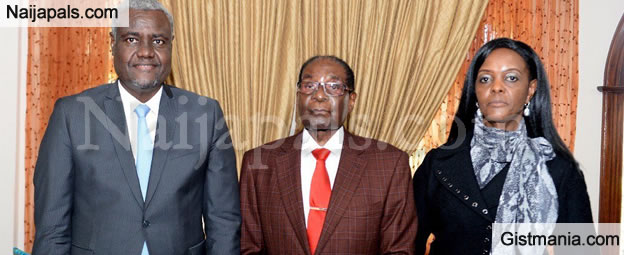 The President Emmerson Mnangagwa led administration of Zimbabwe has declared 21st February a public holiday, which will be known as the Robert Gabriel Mugabe National Youth Day.
Mugabe, a deposed leader of the country located in the southern part of Africa, was born on February 21st, 1924 – meaning he became 94 years on Wednesday.
Dewa Mavhinga
@dewamavhinga
#Zimbabwe today observes a public holiday declared by @edmnangagwa to mark former president Robert #Mugabe's birthday. Mugabe turns 94 today, since the military coup he rarely features amid suspicions he remains under house arrest effectively.
See Dewa Mavhinga's other Tweets
Yesterday, was previously celebrated as the Day of the 21st February Movement in honour of former president Robert Mugabe's leadership principles.
However, in a statement issued yesterday, Zimbabwe Service Commission chairman Mariyawanda Nzuwah said February 21, is a public holiday with respect to public officers.


Quote

"Statutory Instrument Number 143 of 2017 (gazetted on November 24, 2017) provides that: 'His Excellency, the President, in terms of Section 2 (2) of the Public Holidays and Prohibition Act (Chapter 10:21), hereby makes the following notice:-
1. This notice may be cited as the Public Holidays and Prohibition of Business Notice, 2017.
2. It is hereby declared that the 21st of February every year henceforth, shall be a public holiday to be known as the Robert Gabriel Mugabe National Youth Day. Accordingly, Wednesday 21st February is a Public Holiday with respect to public officers,"

he said.
Speaking during his acceptance speech at his inauguration as the second Executive President of Zimbabwe last year, President Mnangagwa had indicated that the former President needed to be accorded the respect and recognition he deserved as one of the founders and leaders of Zimbabwe.