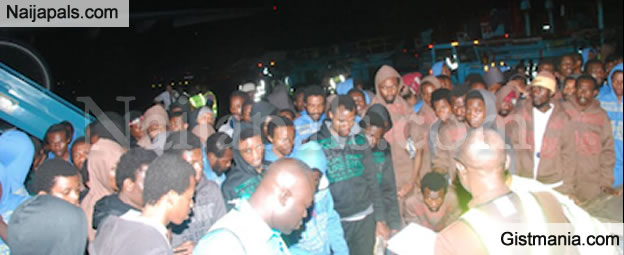 Some Libya returnees in Edo, on Monday, disrupted the town hall meeting organised by the State Task Force on Human Trafficking and Illegal Migration for alleged discrimination in selecting victims participating in the empowerment programme
The News Agency of Nigeria (NAN) reports that the protesting returnees in large numbers stormed the venue of the empowerment programme destroying some items, including the tent, chairs and six ceiling fans.
The protesting returnees accused the task force of alleged discrimination in its selective method of victims' participating in the rehabilitation and reintegration programme organised for the victims of human trafficking and illegal migration by the state government.
NAN reports that it took the intervention of the men and officers of the Edo Police Command to calm the protesting returnees.
Jude Ikuenobe, who spoke on behalf of the protesting returnees, told News Agency of Nigeria (NAN) that new returnees were being selected ahead of those who had returned much earlier to participate in the programme.


Quote

"They have given some of those that just returned N1 million while those of us that came before them have are yet to get anything from the government.
"We know Gov. Godwin Obaseki is trying; but we are sorry to say that members of the task force are busy enjoyment themselves with what is meant to be for us (returnees).
"To make things worse, they have resulted to treating us selectively, depending on who you know.
"I am aware that even those who have been trained on various aspects of agriculture are yet to get the promised grant and land by the governor.
"With this in mind, how then do you rationalize the method of selecting and giving those who only arrived in December N1 million as empowerment, leaving those of us who had returned months back stranded.
"While we remain grateful to the governor, however, we want the task force to be upright in its duty by doing the right thing,

" he said.
Reacting to the incident, Mr Solomon Okoduwa, Senior Special Assistant (SSA) to the Governor, Human Trafficking and Illegal Migration, who condemned the protest, denied the allegation.
Okoduwa, who said there were civilized ways to ventilate ones disagreement, noted that every of the returnee, already screened, had been listed into various empowerment programmes.
He explained that the empowerment programmes were in phases, noting that those yet to benefit in the ongoing phase, would obviously benefit later.
"There is no delay in the empowerment programme; the state government did not envisage the large number of returnees.
"And that is why the governor has accepted it as a challenge but requires the support and collaboration of all stakeholders," he said.