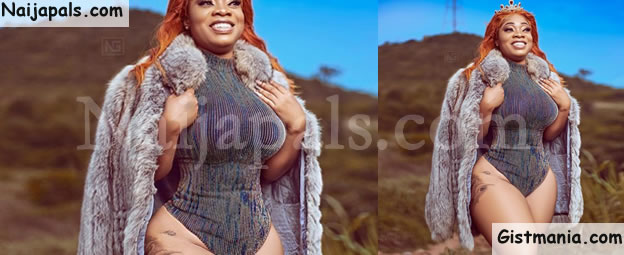 Below is a lovely picture shared by Ghanaian actres, Moesha Boduong in which she looks royal as she flaunted her curves and hip tattoo.

Speaking on The Late Afternoon Show with Berla Mundi on GhOne TV, Moesha Boduong indicated that she's likely to undergo liposuction after she's had babies. This she said to quell rumors that she had already undergone the procedure.

The actress insisted that her curvy figure was acquired through 3 years of waist training and detox and not liposuction like it was widely believed.



According to webmd, Liposuction is a cosmetic procedure that removes fat that you can't seem to get rid of through diet and exercise.

A plastic or dermatologic surgeon usually does the procedure on your hips, belly, thighs, buttocks, or face to improve their shape. But liposuction can also be done with other plastic surgeries, including face lifts, Bosom reductions, and tummy tucks.

Recently, the curvy actress revealed that she prefers dating older men cos she has really never been lucky with young guys. She says young men are likely to cheat cos they like girls too much. She however made it clear that her decision is not simply because older men are mostly rich and that she's after money. This she did by stating that she doesn't want an extra rich man.



Read her quote:

Quote

"I like dating people who are 10 years older or 5 years older
than me, I just think grown-ups treat you better, I've never been lucky
with young guys, … they like girls too much so I prefer older men
because they are more matured and teach you a lot of things..''
She also disclosed that she does not need a man who is extra rich but rather a man who can take good care of her.
"I don't want an extra rich person in terms of money but
someone who can take care of me and support me, I work but I still need
someone to take care of me…''
Problem with this article? Please contact us
---