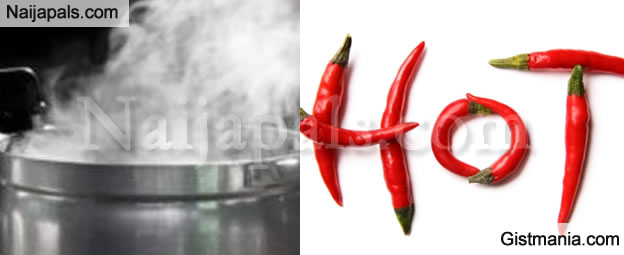 A house wife, Mrs Janet Mohammed, of Mandela area of Minna in Niger State on Monday poured hot water mixed with pepper on her husband Mr Alaska Mohammed after a brawl.
According to NAN, Mohammed said on Tuesday on his hospital bed at Minna General Hospital that the quarrel was over their 11-month-old son's health.

He said that trouble started when his wife was nonchalant about the boy's high fever. Mohammed said his refusal to allow the wife take the son to church led to a brawl which was subsequently settled by his mother. After my mother settled us she told me that I will regret ever laying my hands on her but I ignored the threat. As I was watching television and taking my breakfast, she splashed the mixture on me. The victim said that before family members and other neighbours could come to his aid his wife had disappeared.

Confirming the incident, the Police Public Relations Officer in the state, Assistant Superintendent of Police Muhammad Abubakar, said the matter had been reported to the police. Abubakar said the offence was criminal. He said; "We have commenced investigation into the matter although the woman in question is on the run. Whenever we arrest her we will charge her accordingly.
---