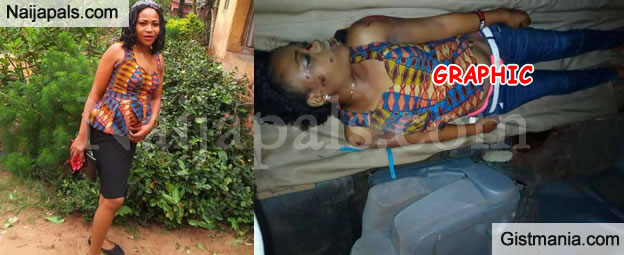 A young woman identified as Oluchi Sylverline Nzurike was killed in a fatal car accident on Sunday, in Isinweke Ihitte/Uboma local government area of Imo State.

The young woman said to be pregnant reportedly died on the spot. Her corpse has been deposited at a nearby hospital mortuary.

Friends and family members have taken to Facebook to mourn her death.



Quote

"Sad News #RIP olu
Oluchi I still can't believe dis #ARIRI
So u are gone like Dat, olu my sister
only God knows the best
#RIP I will never forget u #olu" One wrote.



Her sister, Destiny Chukwudi said she spoke to her ten minutes before the accident.



Quote

"I was about to eat when I heard of your death, I never believed it because I spoke to her 10 minutes ago, till my fiance called and said to me honey my elder sister is dead .What a world, I wish all this was just a dream or a drama, but is real. (15-4-2018 6:26pm)will never depart from my heart. Rest in peace dear Oluchi till we meet to part no more."



More photos below...


GRAPHIC PHOTOS
---