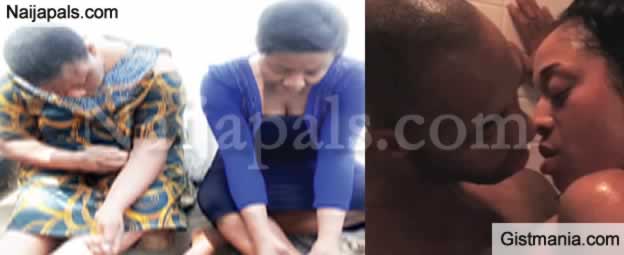 In order to make a Reverend Sister slow down on her strict behaviour, two sisters resorted to sex tape blackmail.


Two women of the same blood, Ngozi Nnabude, 46, and Uchenna Agagwaonye, 40, have been apprehended for blackmailing a Reverend Sister, Mary Okolo.
Lagos State Police Commissioner, Imohimi Edgal, explained that the suspects carried out the act in order to intimidate the nun who reportedly has a strict personality.


Edgal confirmed this in a statement.


Quote

"They conspired to put her under constant fear of imminent danger. "When the threat to maim, kidnap, kill and expose her unfounded secret sex life was continuous, Okolo reported the matter to the police.

"Investigation revealed that Agagwaonye's job was to monitor Okolo and pass information gathered to her sister, Ngozi, who now called the Rev. Sister to tell her movement.

"She used to tell the nun such threat messages like: 'I can see you, you are putting on this and type of clothes and shoe, you are in so and so place, you can't hide from us and you will be killed soon,"

says the police commissioner.

One of the suspects, Agagwaonye, reiterated that the hardship endured under the Reverend Sister's firm hands encouraged a desire to blackmail her.

The goal was to make her pedal down.


Quote

"I have been teaching in that school for over 18 years. But Rev. Sister Okolo just joined us recently. I run a part time programme with University of Lagos. "Before I went for leave, I went through the normal application process, but when I resumed, she deducted N12,000 from my salary.

"Six months later, we had an argument and I was given a letter of suspension. "All these didn't make me happy. "I don't want to kidnap or kill her. I sent the messages to her so that she would calm down on her wickedness. I don't even have any sex tape, but the laptop repairer whom she gave her laptop to fix, has video clips of her nudity,"

Uchenna Agagwaonye revealed during an interrogation.

Lady threatens to frame man as gay for refusing to have sex with her. An unnamed woman has threatened to frame her love interest as a gay man for refusing to have sex with her.

According to the Linda Ikeji's Blog, a Facebook user, Bright Baidu Maigari shared a conversation between the pair. It saw the female persistently make sexual advances at the victim who expressed a lack of interest in her offer of wild sex.


This angered the woman who opted for blackmail in a bid to force the man to concede to a pressure to have sex with her. The mood of the conversation portrayed the blackmailer as an aggressive and desperate woman who was willing to explore any means to get the subject to submit to her will.

Maigari's post received hilarious responses from his followers, mostly men, who were either happy that a woman was seen as the villain in an issue related to sexual harassment, while others simply wanted to meet the horny woman.


To express her desperation for sex with the unnamed man, the blackmailer offered to pay for his transportation fare after he revealed that he was without his car.
---
Published at:
09:58 AM, 17/04/2018 (11 months ago)
Author:

CLARA JANCITA
Problem with this article? Please email reporter[at]naijapals[dot]com or visit our contact page
---