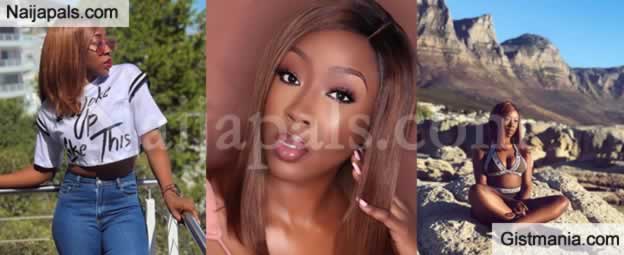 Beautiful, Talented and Hardworking British-born Nigerian actress, Beverly Naya is celebrating her 29th birthday today, April 17, 2018.


To mark this day, the actress shared the photo below via social media with caption;


"Happy birthday to me! Thank you Jesus for your love, mercy and blessings…I wouldn't be where I am today without You. Eternally grateful, eternally blessed! Today is going to be too dope! "
British/Nigerian actress, Beverly Naya is a determined and fearless actress who continues to shine on both the big screen and small.
Born and raised in London, England, Beverly Naya has received high acclaim for her work on stage, on television and in film.
Beverly Naya debuted in Nigerian film industry five years ago earning herself BON Awards' 'Most Promising Actor' 2010 and City People's 'Fastest Rising Actress' 2011.


In 2011, Naya starred alongside OC Ukeje in the AMAA Award nominated hit film Alan Poza, her performance earned her another nomination for BEST ACTRESS IN A LEAD ROLE.
In the years to follow, Beverly Naya starred in Make A Move, Forgetting June, When Love Happens and Something Wicked. Naya also acted in the thought provoking film Stripped opposite veteran actor Ramsey Noah and acclaimed actor Joseph Benjamin.


She also starred alongside iconic actress Omotola Ekeinde Jalade in the big budget film 'Up Creek'.
In 2013, Beverly Naya made her television series debut in Passport, a BET tv series shot entirely in Atlanta, Georgia. Not long after wrapping up the series, Naya landed herself a supporting role as the feisty and seductive Yaya Gardia on M-Net's number one soap, Tinsel.
Beverly is currently one of the four lead females in the new and exciting 'Sex and The City' inspired television series, Before 30 as well as the lead in 'Surulere', a film directed by Mildred Okwo and executive produced by Rita Dominic, the same team behind the award winning film 'The Meeting'.
Amongst other film projects, Beverly Naya is set to star in her first international big budget feature film in the months to come.
Not only is Beverly Naya a Dark and Lovely brand ambassador but she is also an activist, she is constantly looking for ways to positively effect change and growth in our society.
Amongst other campaigns, Beverly Naya is the founder of her very own campaign called #FiftyShadesOfBlack which was created to empower black women and girls to love themselves.
Listing her mother, Oprah Winfrey, Leonardo DiCaprio and Angelina Jolie amongst others as her influence, Beverly Naya is definitely a young lady, who has the attitude and passion to physically reach up and touch the stars and is unquestionably one to watch out for in the future.