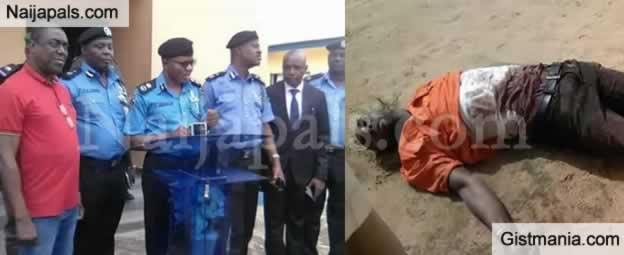 The Akwa Ibom State Police Command has confirmed the killing of dreaded gang leader, Stainless, who unleashed terror on Etim Ekpo and Ukanafun Local Government areas of the state by killing, maiming, molesting, kidnapping, issuing of threat letters and burning of houses indiscriminately.

Akwa Ibom Police confirms death of wicked and brutal gang leader, Stainless

Briefing newsmen on Thursday, the State Commissioner of Police, CP Adeyemi Samuel Ogunjemilusi said the "wicked and brutal" gang leader was killed during fierce exchange of fire with police operatives. His full statement below:

In the past two years, Etim Ekpo and Ukanafun Local Government Areas of the State have witnessed upsurge in criminality and brigandage due to the activities of the notorious criminal group led by Akaninyene Jumbo a.k.a ISO AKPAFID.

Joint operations of the security agencies in the State led to the death of ISO AKPAFID on 15 January 2018. The peoples' jubilation that followed was however cut short by the emergence of a wicked and brutal self-crowned successors to Isokpafid, who adopted the title STAINLESS. Successive Stainless led other hoodlums on a revenge mission and unleashed terror on Etim Ekpo and Ukanafun Local Government areas by killing, maiming, molesting, kidnapping, issuing of threat letters and burning of houses indiscriminately.

Disturbed by this ugly development, the Security agencies in the State re-strategized and mounted massive operations against the criminal gang.

This led to the arrests of many of the hoodlums who in spite of numerous appeals refused to surrender their weapons and embrace peace.

Our efforts received a boost at about 2230 hours of yesterday 18 April 2018 with the death of the current and most brutal gang leader, known as Stainless by his victims but whose real name is Isaac, but known to the Security Community and close aides as BAGGY SHORT, after serious exchange of gun fire.

Thus effectively bringing to an end the reign of terror of Iso Akpafid and his lieutenants in Etim Ekpo and Ukanafun. We have chosen to parade his corpse to demystify his invisibility and re-assure the people of Etim Ekpo and Ukanafun of their safety to encourage those who have fled the area to return home.

In the course of this operation, the IGP was magnanimous in offering a window of opportunity for people with illegal weapons to turn them in. This yielded favourable result as many arms were mopped up across the State.

Meanwhile, security has improved significantly in Ikot Ekpene, Plaza, Eket and many areas across the State. There is no hiding place for cultists anymore as many of them have been effectively put behind bars while others are facing prosecution.

They are mainly responsible for heinous crimes in the State. We are aware some of them have moved their activities into the forests but even there, we would smoke them out. Arrangements have also been concluded with authorities of higher institutions and Students' Unions to flush them out and restore the glory of the various institutions.

I would therefore like to seize this opportunity to call on all peace loving people to continue to cooperate with the Police and other security agencies to maintain law and order by furnishing us with credible information. I did pledge on my assumption of duty that we would confront all acts of criminality and make the State the safest in the country and I'm here to assure all Akwaibomites that we're on course.

We thank the Inspector General of Police and other security Chiefs for approving our joint operations and the State Government for supporting our efforts. We thank the gallant officers of the Police, SSS and the Military. Our appreciation goes to the good people of Akwa Ibom State who came up with useful information. Above all, we thank the Almighty God for the success of the operations and the safety of our officers and men.

---