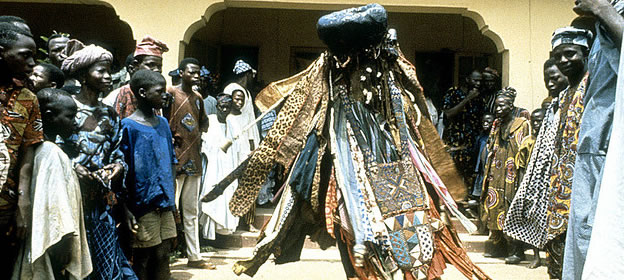 At least one person died yesterday while over 22 others sustained various degrees of injury when masquerades in their numbers invaded the Holy Ghost Adoration Ministry, Uke, Idemili North Local Government Area of Anambra State.

The masquerades, who were said to be celebrating a festival known as Uzo Iyi, invaded the worship ground, beating up members and also attempting to whisk away the spiritual director of the centre, Rev Fr Emmanuel Obimma.

According to reports, three of the masquerade members were arrested by operatives of SARS upon complaint from the church that they were extorting worshippers coming to the church. The leadership of the church called in the SARS operatives to help their internal security to protect worshipers, but upon arriving, the operatives arrested three masquerades who were involved in the extortion, but their colleagues attempted to stop them from taking the arrested masquerades away, prompting SARS operatives to shoot sporadically into the air before whisking the masquarades away.



Personal Assistant to Fr Obimma, Francis Okoye, who spoke to journalists, said a priest, Rev Father Henry Nnajiofor, a seminarian and 28 others were injured during the attack on the worshippers. It was however gathered from some worshipers that an unidentified person was feared dead during a stampede caused by the attack.

Okoye said: "The normal masquerade activities in Uke, to the best of my knowledge, ends by 6pm but as at 8pm on Friday, the masquerades were still parading at the entrance route of Uke Adoration ground, extorting money from the our members and robbing others on the guise of masquerade festival.



"As at 8:30 pm, we started receiving information that group of masquerades were attacking our members, inflicting bodily injuries on them as a result of severe flogging. They flogged some of them, stabbed some with their weapons including machete, while others were robbed of their mobile phones and other valuables. "We quickly contacted the SARS office to assist our Adoration security that could not handle the situation at that point in time. When SARS arrived in an hour later, they arrested two masquerades but on their way back, the youths blocked the road and insisted that the masquerades must be released. That was when SARS officials fired shots on the air to disperse them. "When SARS left, they regrouped again and this time came in their numbers to the Adoration premises, beating everybody including the elderly, the sick and pregnant women. Our Adoration youths, in defence, pursued them and arrested one other masquerade who stayed in the Adoration ground with us until this morning when we handed him over the official of the Nigerian Army that came for our rescue,"

he narrated.

The Police Public Relations Officer (PPRO) in Anambra State, ASP Nkiru Nwode confirmed the incident but denied that the masquerades also attacked the police officers from SARS. She said the command arrested three of the suspects and is currently investigating the cause of the incident
---