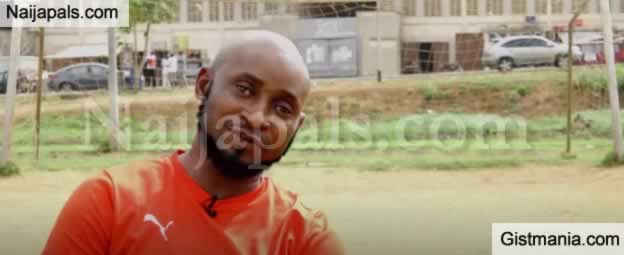 There is a photo of Femi Opabunmi trying to mark David Beckham in what look liked a set-piece situation during Nigeria's goalless draw against England in a group game at the 2002 FIFA World Cup.
That photo defined the rapid rise of the then 17--year-old who a year earlier had just had his first experience at an international competition.
Femi Opabunmi marks David Beckham during Nigeria Vs England at the 2002 FIFA World Cup (Getty Images)
A 16-year-old Opabunmi finished the 2001 FIFA U-17 World Championship in Trinidad and Tobago with five goals to take the Silver Shoe as the second highest goalscorer and the Bronze Ball as the third best player of the tournament.
Huge things were expected from the left-footer who reportedly caught the attention of the likes of Manchester United and Lyon.
At 17 the next year, he was part of the Super Eagles to the 2002 FIFA World Cup and played that group game against England.
Blindness strikes
Although he never hit the heights expected of him, Opabunmi was enjoying a steady football career until tragedy struck in 2006.
What happened next is a story that has been well told.
"I just woke up one day and I just saw the cloud, I was not seeing well," the former Super Eagles player told BBC Pidgin English channel.
"We went to the specialist and checked the eye, we went from one place to another before my career went.
"I can't play professional football again, because of my eyes, but I have to keep myself fit because it is the game I love very much with all my life."
Opabunmi became blind in the right eye, a condition that mysteriously could not be cured by the best medical practices.


At that time, he had spent four years at Grasshopper in Switzerland before stints at Hapoel Be'er Sheva F.C in Israel and Niort in France.
He was in Niort when the eye problem struck.


Quote

"When I went to Grasshopper, I signed a four-year contract. After my stint at Grasshopper, I went to Hapoel Be'er Sheva in Israel, I played just six to eight months, then I crossed to France. I played in France (Niort FC) for like one season when my eye problem started," he further said.
"I saw a doctor in France for Porche, the doctor said it was a case of glaucoma. They said my case was complicated and that they don't understand everything."
With no solution from the doctors in France, Opabunmi returned to Nigeria to seek traditional help.
"I came down to Nigeria and started going from one place to place. Native doctor, anybody, I went there," he said.
"This eye took me to so many places they don't expect to see me there. The problem got worse and worse again."
Unable to continue his football career in Europe, Opabunmi tried out with Enyimba but his right blind eye limited him.
"In 2007, I came to Enyimba to see if I can play with one blind, to manage. But I could not play with the blind eye,"

he said.
These days, Opabunmi resides in Ibadan with his wife and three children at his at his bungalow, the only property he owns, the only thing remaining after he sold everything.