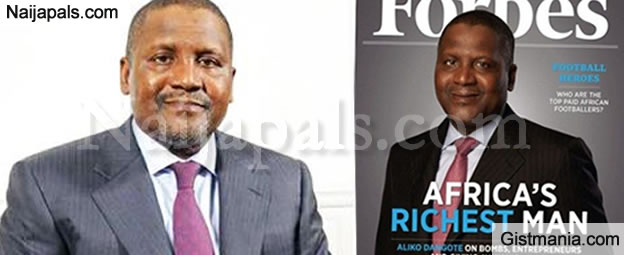 Africa's richest man Aliko Dangote is also one of the most powerful people in the world ranking number 66 of the 75 most powerful people of the world according to Forbes.

To compile the ranking of The World's Most Powerful People, Forbes considered hundreds of candidates from various walks of life all around the globe, and measured their power along four dimensions. First, it was checked if the candidate has power over lots of people. Pope Francis, ranked #6, is the spiritual leader of more than a billion Catholics. Doug McMillon (#23), is the CEO of the world's largest private employer, Wal-Mart Stores, with more than 2.3 million workers around the globe.
Aliko Dangote is not only a very influential CEO in Africa with great investments, work force and revenue, he is also the richest black man in the world and this makes him eligible.

See the full of the 75 most powerful people in the world.


---