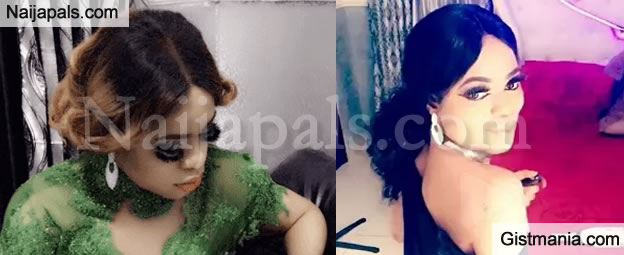 Nigerian male cross-dresser, Okuneye Idris Olarenwaju, popularly known as Bobrisky, has revealed in a new interview on why he prefers to dress as a woman and he also opened up on the Bosom growing procedure he just started.



Speaking in an interview on Broadway TV, the male barbie said he settles for female dresses for entertainment.

He also mentioned that reason why he decided to develop his Bosom s is because he simply wants to be the best at whatever he does and beat every competition

Bobrisky also revealed that he makes over N600,000 on a weekly basis.


According to him:

Quote

"You know when you are doing something and you are not really good at it; you are not perfect at it; it does not really speak well of you.

"So, for me, I'm trying to be perfect in what I do. So, that's the way it is, people should just accept it the way it is: Bobrisky is growing Bosom s.

"I'm not doing anything really serious to grow bosom . I'm just eating and taking some pills. It's just to give us that cleavage look.

"Bobrisky is a brand. I own a brand, money, fame and I think I have more confidence in me. I make over N600 to 700k on a weekly basis.

"I'm going to call myself an entertainer. I'm partially an entertainer and partially a cross-dresser because I put on female attire.

"The reason I'm dressing in female attire is because I want to entertain people. So its still all under entertainment."


Remember. Bobrisky caused a stir on social media over the weekend when he announced that he was getting married on Sunday and even went further to post the photo of a man, whom he claimed was his groom

The lid was however blown open when it was later discovered that the man is a serving US Senator. This forced Bobrisky to later announce it was just a publicity stunt


---