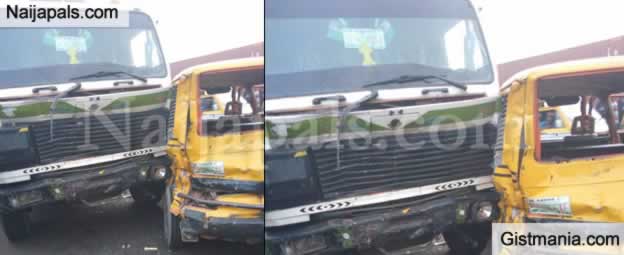 A bus conductor has lost his life in Lagos state after he was reportedly crushed to death by a truck.

People were left in a state of shock after a father of three, Noah Akindiloye was crushed to death in traffic at Second Rainbow bus stop, in the Mile 2 end of the Oshodi-Apapa Expressway.
43-year-old Akindiloye, a bus conductor, was killed by a tanker driver, identified only as Abbey, whose vehicle had brake failure.

The bus driver whom the victim worked with, Lawal Abiodun, told Punch Metro that he was with the deceased and some passengers when the incident happened.
He said,

Quote

"When we got to Second Rainbow, there was a traffic jam because of people that wanted to alight from another bus; I was in the middle lane when I heard a sudden bang. Our vehicle was hit by a truck from the back. The hit made my bus to turn around and face another lane.

"I don't know how my conductor fell from the bus. I saw him lying lifeless where the tanker had killed him.

"About three other people that sat at the back sustained injuries and when they saw that the conductor was dead, they simply went their way."



The deceased's wife, Sadiat Akinloye, said she was feeling uneasy but didn't have an idea of what happened.


The man crushed to death by the tanker


Quote
"People had heard about the incident in our compound, but they didn't tell me. The driver told me that they were in front when the tanker hit their vehicle by the side.

"I was told that my husband was collecting money from passengers when the tanker driver hit him; he fell from the bus and something in the tanker hooked his clothes.

"He was struggling to unhook himself; but because the brakes of the tanker had failed, the tyres crushed him," she added.

The widow lamented that the deceased had been the breadwinner of the family, adding that he didn't allow her to work.

"His responsibility in the family cannot be quantified because he was the only son of his family. He was the only one taking care of our children. My first child is in a boarding school in Ondo State. This is the only work he does to feed us and pay for accommodation,"

she added.

The mother of three pleaded for government help and support of well-meaning Nigerians.



CLICK HERE TO VIEW GRAPHIC PHOTO


[/list]
Published at:
01:16 PM, 24/05/2018 (9 months ago)
Author:

CLARA JANCITA
Problem with this article? Please email reporter[at]naijapals[dot]com or visit our contact page
---