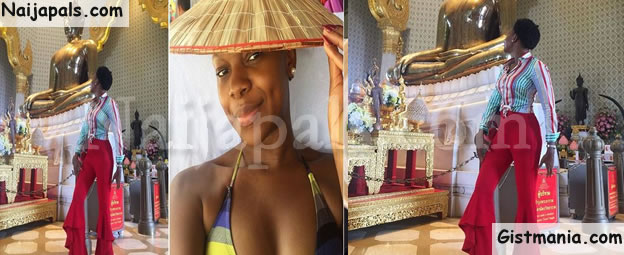 Newly married Nollywood actress Zainab Balogun just shared photos from her honeymoon in Thailand and it appears she is having the time of her life.



Sharing the photos, she wrote;

Quote

I made it to Coral Island

1: We drove for over an hour from Bangkok to Pattaya City.This beachside destination is very popular among party tourists. There's a strip of clubs along the main street for mostly house music.

2:There are boats leaving Pattaya for other islands that you can visit such as Coral Island. Here you can enjoy snorkelling , Scuba diving, deep sea fishing and more.

3: Guess who got a taste of Thai beer today. Not bad
Day 2: I started my day visiting the giant Buddha at the Gold Buddha Temple. Here's today #ThaiThrees
1: Historically the Thai people were very rich in Gold. During the Burmese–Siamese war they would often hide their riches in plain sight. This Buddha was originally covered in stucco until one day it was being moved and a crack was discovered revealing the 24k Gold underneath.
2: The Buddha temple is very sacred to the people. No shoes, hats or excess display of skin allowed in the temple. You will be sent home with any short sleeves or lace accents.
3: My pants were a winner today. Everybody wanted a picture with the brown Afro girl with the red pants.
Day 3: I had my first Thai dessert today! Fresh coconut ice cream with sticky rice and peanuts from the Damnoen Saduak floating market. Peep my #ThaiThrees today.
1: My @abaytour guide said she wanted me to experience real Thai life and see how some locals make a living. We went to the floating market which is literally a market on water. Everything is as fresh as it can get because it comes in straight from the sea. As you can see I'm in a boat down the canal where other boats display their goods and pull you aside with a stick if you're interested in making a purchase. It was such a unique experience.
2: I had the best noodle soup I've ever tasted at the market where once agin you're watching your meal being made from a boat. –
3: I found out today that Kun Joy's older brother is champion boxer; Sagat Petchyindee who "Sagat" from the Street Fighter game series was created after. I get to meet him on Saturday! How cool is that?
---
Published at:
08:46 AM, 26/05/2018 (10 months ago)
Author:

Mister Jay Wonder
Problem with this article? Please email reporter[at]naijapals[dot]com or visit our contact page
---