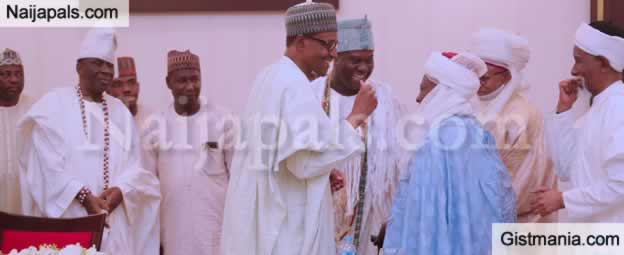 President Muhammadu Buhari on Tuesday hosted traditional and religious leaders to breaking of fast and reassured them that he will never betray the trust reposed in him by Nigerians no matter the challenges on ground.
The President gave the reassurance when he hosted traditional rulers and religious leaders from across the country to breaking of Ramadan fast at the Presidential Villa, Abuja.
He also vowed that he would never allow political office holders or public servants entrusted with the nation's resources to abuse such trust by way of stealing or mismanagement of the resources.
He maintained that the nation's resources were meant to uplift the quality of life of the citizens and not to be diverted to private pockets by selfish individuals or groups.
"This country is endowed by God with material and human resources. We are going to work very hard to explore it
"We are holding public trust and knowingly we will not abuse it and we will not allow anybody to abuse it,'' he said.
He charged the traditional and religious leaders to continue to educate and enlighten their followers on the importance of keeping public trust, saying that his administration would continue to promote the virtues of honesty, trust and accountability for the general good of the society.