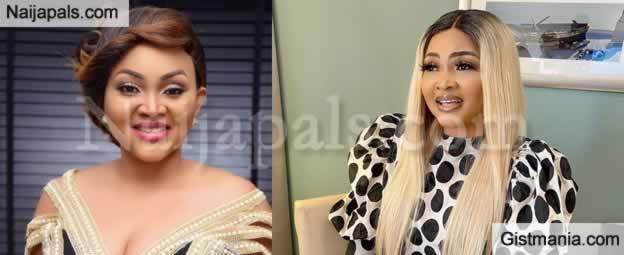 Nollywood delectable actresses, Toyin Abraham and Mercy Johnson who are obviously not in communication with each other after an Instagram fight have remained silent on the circumstances leading to their public fight on the internet.

With the two ladies being divorced,single, actresses, and having Edo state roots were one of the most amazing colleagues/friends in the entertainment industry, the fight was indeed a shock to many.

Upon the Instagram war, Toyin claimed that it was a publicity stunt but after a while, the altercation brought about a split in some actors taking sides(Yomi Fabiyi and Kemi Afolabi) which finally led to the two ladies unfollowing each other

However, when called to hear her side of the story, considering that she has been quiet over the rancour on social media, Mercy Aigbe sounding uninterested in the conversation said;

"Don't mind the bloggers, there's no problem between me and Toyin. It was a stunt by Toyin as famously explained by her. The bloggers only feasted on it to make business,"

Upon being asked her about 'unfollowing' each other on Instagram, she gave the most convenient answer saying;

"There is no truth in that either. That is easy to find out, you can check it yourself to confirm,"

However, when their IG pages were rechecked, it revealed that indeed the two truly 'unfollowed' each other as widely reported.

The drama started when Toyin Abraham took to Instagram and insinuated that Mercy Aigbe is often excited when colleagues have misunderstandings and is of the habit of fueling feuds silently while feigning ignorance.

Abraham reportedly stormed her page to call her an hypocrite after she posted a photo of Omoni Oboli's books which she bought to give away to her fans.

Toyin Abraham added that Mercy Aigbe is fond of the attitude and always does that whenever her colleagues are having issues. She also pointed out that Mercy Aigbe contributed to the tragic end of her marriage.

Meanwhile,reports have it that Toyin outburst was when Toyin was not included in Omoni's new movie, "Wives On Strike".

Toyin played an important role in the first edition as (Iya Bola) in 'Wives on strike the revolution' and they all believed she still had a role to play in this new production.

Toyin is missing from the poster Omoni shared and her name was excluded on the cast listing.

In place of Toyin Abraham, Omoni used Mercy Aigbe who is making her debut in the movie.

Well, Toyin is not happy and has taken to Instagram to blast Mercy.

Problem with this article? Please contact us