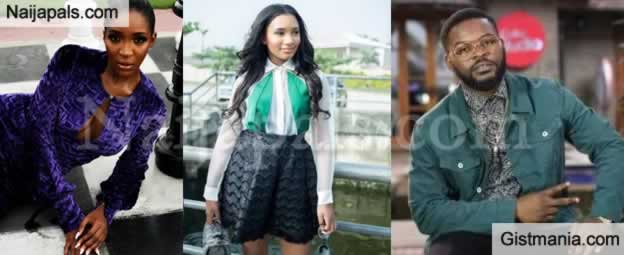 The creative industry in Nigeria before the turn of the new millennium was somewhat reserved for those in the lower middle class and lower class who saw creatively as a way of mind escape from their harsh reality. Others also saw it as a way for economic empowerment.

Before now, it was very hard to find kids of the wealthy who have creative tendencies going all out to chase their dreams and express the art in them as their family backgrounds that are usually aristocratic and elitist, most often already had a path set for them, either in the corporate world, family business and politics. Today, we have a lot of rich kids from very privileged backgrounds who have drifted into the entertainment industry and have done so well for themselves.

Whether they last names have been the boost for them or not, it is important to note that most of these kids are arguably responsible for the little business structure that exists in the Nigerian Creative sector, especially in the music and fashion industry. We take a look at some affluent kids who are in the entertainment industry and doing exceptionally very well.
1. L.A.X


Damilola Afolabi also known as L.A.X. was born on April 10, 1993, in Lagos state, had secondary school education at Prestigious and expensive Turkish International School, Lagos where he formed a music group called Fly Boiz, before proceeding to the UK for tertiary studies.
While in the UK, he came into public consciousness when he was signed to Wizkid's Starboy Records in 2013. The hit song, Caro, featuring the Starboy Boss, was his first major shot at the limelight.
His father, Taiwo Afolabi, is a business mogul and Chairman of SIFAX Group. L.A.X has also done quite well for himself in the industry with songs such as Gbefun, Ginger, Call my Baby, Rasaki, among others. However, he is yet to cross over to the A-list in the music industry.
2. Davido


David Adeleke, aka Davido, was born on November 21, 1992, in Atlanta, Georgia to Chief Deji and Vero Adeleke, a very successful billionaire businessman and Chairman Pacific Group
Davido's interest in music started during his time at Oakwood University, Huntsville, Alabama, United States. He would later drop out of Oakwood when he started getting bad grades and eloped to London because he was hiding from his family. He later came back to Nigeria unknown to his father and fully launched his music career. He quickly scored a hit 'Back When' in 2011, followed by the monster hit 'Dami Duro'.
His father, however, made sure he returned to school after the fame started coming. He enrolled at Babcock University, where his rich father donated music department just so that Davido could study Music.
His father's vast wealth has also come in handy for him. He is known to splurge on jewellery and cars and he didn't make pretences that he wasn't from a rich home. Most times, Davido flies in his father's private jet to attend concerts.
Recently at the MIDEM summit in Cannes, Davido was quoted saying his success has made other rich parents start allowing their children to do music.
3. Falz


Folarin Falana or Falz The Bahd Guy as he is professionally known is the son of Nigeria's foremost lawyer and activist fatherFemi Falana (SAN), is regarded as a good lawyer who is often on the side of the masses and a Senior Advocate of Nigeria.

Falz is a Law graduate from the University of Reading, UK, but music is his true passion. Even though he practised law for a while, Falz didn't find fulfilment until he actively pursued his music career. Falz started releasing songs in 2009 but fame didn't come his way until he started to upload comic video skits on Instagram. His unique sense of humour caught the attention of many and his popularity soared. His songs were also well received by fans.
Falz's latest release 'This Is Nigeria', is currently the most talked about song in the country right now due to the controversial commentaries it carried in its message.
4. DJ Cuppy


Born Florence Ifeoluwa Otedola, DJ Cuppy is the daughter of Nigerian billionaire Femi Otedola who is the Chairman of Forte Oil.

Cuppy grew up in Lagos before leaving for London where she graduated with a degree in Business and Economics from Kings College. She later attended New York University where she obtained a masters degree in Music Business.
Truly, when she first started performing as a DJ, she found it quite tasking to connect to the Nigerian crowd. She usually played Rock, Heavy Metal, and other genres of music that Nigerians were not used to and earned her lots of criticism. However, she has gotten better with time and her consistency has endeared her to many fans.

Cuppy has also tried out singing, featuring pop star Tekno on 'Green Light' and Ghanian rapper Sarkodie on the track "Vybe'. She was also recently unveiled as a DJ ambassador for Pepsi.
5. Kach


The name of Uche Kachikwu, aka Kach, is the son of the Minister of State for Petroleum, Dr Ibe Kachikwu. Kach made his debut the song 'Odana' in 2016 which also had a remix with Lil Kesh.

Kach's most notable effort is the track 'Dino' released in 2017. The song is named after controversial Senator Dino Melaye, who made a cameo appearance in the music video which was shot in his house. Many criticised Melaye for appearing in the video. Kach was recently signed and unveiled by Ubi Franklin's led MMMG
6. Temi Otedola


Temi Otedola was born on March 20, 1996, March. She is the last daughter of Oil Tycoon billionaire, Femi Otedola and also the younger sister of Nigerian female disc jockey, DJ Cuppy.
Though born in Nigeria, she did much of her schooling in London, England. Temi is a Fashion blogger, Fashionista, social media star.

She first began her blogging career in 2014, She has her own fashion and style blog named JTO Fashion. Temi was motivated to start blogging through her own personal inspirations and uses her JTO platform to express her adventures through the arenas of fashion, art, travel and photography. Her style, skills and association with her more famous elder sisters, paved the way for her to attend, biggest fashion shows across the globe

Temi is romantically involved with popular Nigerian singer Mr Eazi.
7. Abisola Koladaisi


Abisola Kola Daisi, the beautiful daughter of current Oyo State Governor Abiola Ajimobi can be described as one expensive stylish diva to look out when it comes to fashion. It is safe to say that she is following her mother's fashionable footsteps.
The governor's daughter is a huge brand on her own. From when she schooled in America, she has always been a part of the showbiz world, and made a fortune from it. Abisola has previously operated in Oil and Gas, haulage sectors before her father ventured into politics. She owns an exclusive Christian Louboutin shoe shop on the Island named after her mother.

Abisola is married to a millionaire, Kolapo Kola-Daisi and have been married for over 7 years. Her husband, Kola Daisi is the last child of famous Ibadan business mogul, Chief Kola Daisi, the Asiwaju of Ibadan land whom was a product of excellent Western Education, the good old London College of Economics.
8. Idia Aisien


Idia Aisien is a Nigerian and Cameroonian model ready to take on the world. She was born in Lagos on July 4, 1991, as the last of twelve children., to a Nigerian champagne, wine and spirits magnate father and a Cameroonian jeweler and philanthropist mother.
Now currently based in New York City, Aisien got signed to Beth Models at the age of 15 and also booked her first modelling job at the UNICEF Charity Fashion Show that same year.

She put her modelling career on hold for a Bachelor of Arts degree in Journalism with a minor in Business Administration from American University, Washington D.C. She also has a Master's Degree in International Public Relations and Global Corporate Communications from New York University.

Aisien has also walked the runway for an impressive list of notable designers at New York Fashion Week, Lagos Fashion and Design Week and Arise MBFW. She has worked with Discovery Communications, Fox5 News, The AARP Foundation and the Foreign Policy Initiative.
She also worked for the United Nations and had a successful career with Atlas Mara, a financial services company. In 2015, Idia made the decision to join the entertainment industry full-time. She quit her job and kicked off a career as a TV presenter.

With experience working for a large organization like the United Nations under her belt, the young model currently spends her time in the city working on philanthropic projects and modeling.
---
Published at:
12:38 PM, 14/06/2018 (9 months ago)
Author:

CLARA JANCITA
Problem with this article? Please email reporter[at]naijapals[dot]com or visit our contact page
---