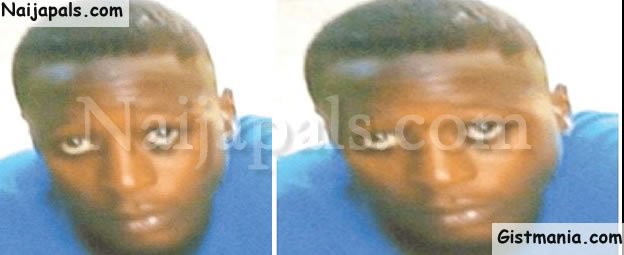 A promising 28-year-old Nigerian man has had his dreams cut short after he was allegedly tortured to death by military police officers.

A group of soldiers have landed in hot soup after they arrested a man on allegations of phone theft before allegedly torturing him to death.

According to NewTelegraph, the sad incident took place at the Ojo Military Cantonment, Lagos State. It was gathered that Luka Zaka, 28, was picked up by military policemen after his neighbour, one Gladys Agbos, reported that she suspected he stole her phone. Exactly two hours after his arrest, news came that he was dead.

When Luka's mother, a widow, heard the news, she collapsed, and was rushed to the hospital. Family members and other people in the cantonment were speechless when they learnt that the soldiers, without first notifying anyone that Luka was dead, quickly moved his body to the hospital and then to the mortuary.



Incidentally, Luka and Agbos' fathers were both military police personnel. But Luka's father died four years ago in active service. Luka's alleged killers, his family and his accuser all live in the same Ojo Military Cantonment.

Luka's journey to the grave started after Agbos reported him to the military policemen, alleging that he stole her phone. The military men were said to have stormed Luka's house and whisked him away. Precisely two hours after his arrest, words filtered into the community that Luka was stone cold dead. He was alleged to have been severely tortured and killed inside the Ojo Cantonment.

Luka's lawyer, Mr. Ejike Ononogbo, insisted that his client was murdered in his prime.

He said: "The deceased was tortured to death by the soldiers. The soldiers went to pick him right in his mother's presence on a mere allegation that he stole a phone."

Ononogbo also explained that the tragic drama occurred on April 26, when Agbos went to report her phone stolen.

The lawyer said: "The military policemen went to arrest him while he was sleeping. And just like that, without any explanation, they whisked him away. They took him away and to the shock of everyone, killed him. Just imagine this; they took him away about 3p.m. and two hours later, he was dead. He died in their custody as a result of torture."

According to Ononogbo, the person that was detailed to investigate the case by the authority concerned abandoned it.

NewTelegraph visited SIB Block 13, Room 5, where Luka's parents live in the cantonment and met Miss Grace Zaka, Luka's younger sister. The grieving lady said Luka's death was a big blow to the family. Grace explained that she was not at home when the soldiers came to pick Luka.

She said: "What shocked us was that two hours after they took him to their office for questioning, information reached us that Luka had been rushed to Army Cantonment Medical Centre. We heard that he was confirmed dead on arrival. He was tortured to death. He was killed over something he knew nothing about."

The lady further explained that their mother, upon hearing that Luka was dead, collapsed and was rushed to the hospital. She disclosed that the deceased was the only person assisting their mother in taking care of the family. Grace stressed that life had not been too easy for them since their father died four years ago.

She said: "I'm still schooling, while our mother sells sachet water and drinks. We needed to survive after father died. The death of my father had not been easy for anyone of us, especially my mother. She struggles to provide for us. I'm appealing to the Chief of Army Staff and other authority concerned to come to our aid. The military policemen who tortured my brother to death are bragging that nobody would do anything to them. My brother must not die in vain."

A medical report issued by Major B. O. Aghahon at the Nigerian Army Cantonment Medical Centre, given to NewTelegraph, states that Luka, a civilian was brought to the facility lifeless on April 26, 2018.

"Further enquires revealed that he died in military police custody while being investigated for a case of phone theft. On examination, the deceased had beating marks and bruises on the extremities (especially the upper arms) neck, head and behind both ears with a bleeding cut on the left pinna. While further medical examination showed no pulse, blood pressure or heart sounds.

"Also on examination, there was no respiratory movement and pupils were unattractive to light and touch. He was therefore certified dead about 9a.m. same day and his relatives were informed and his corpse was deposited at the 68NARHY morgue," the medical report adds.

When contacted, the Army spokesperson, Lieutenant Colonel Daudu Olawale of 81 Divisions said he was aware of the incident and that it was already under investigation.

He said: "We're still waiting for the autopsy report of the incident. However, there was no time the deceased was tortured to death by military personnel."
Published at:
01:05 PM, 17/06/2018 (8 months ago)
Author:

Mister Jay Wonder
Problem with this article? Please email reporter[at]naijapals[dot]com or visit our contact page
---