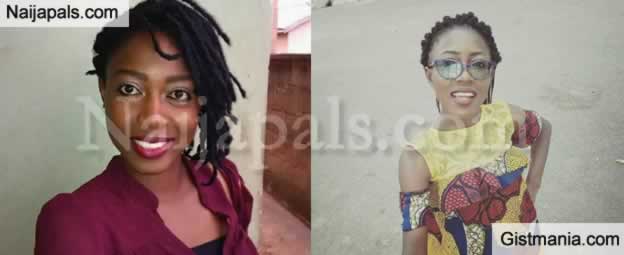 A petite primary school teacher was robbed and stabbed to death over the weekend in Abuja.
Maycity Odion Palma, a twin, was stabbed in the chest after getting robbed at Lugbe, Abuja, on Saturday, June 16, 2018.
She was quite active on popular social media groups and this made her popular on Facebook. Moments before her death, she was active on the FGGC Bauchi 2004 set Whatsapp group. She reportedly chatted with some of her former schoolmates minutes before she was attacked and killed.
Young primary school teacher robbed and stabbed to death in Abuja
She is survived by her twin sister Magdalene Palma, her mother, and her other siblings.
Friends and former schoolmates took to Facebook to mourn her. They described her as "carefree, jovial and lovely."
Young primary school teacher robbed and stabbed to death in Abuja
One tribute reads:
Maycity Odion Palma was our secondary school mate wayback 2004 at FGGC Bauchi,
She was carefree, jovial and lovely.
She was a participatory member of RantHq: in fact she was active here even on the day she was murdered.
This kindhearted petite beauty was wasted on Saturday 16/6/18 by some cursed men of the underworld at Lugbe. They didn't just robbed her of her stuffs, but stabbed her to dead thereafter.
Why would someone kill such a petite being? Couldn't they just slap her so she could fall and then go with her stuffs? Why stab her on her chest?
She was a primary school teacher that was greatly loved by her students : in fact, she shared a letter one of her student wrote her to our set group on whatsapp on 12/6/18 which we made fun of her, telling her a minor was crushing on her. We all know that only a caring/loveable teacher can get such accolades from their wards, let alone little minds.
We her Class mates (FEBOGA 04) are greatly pained over her death, cos she was active in our whatsapp group. In fact, she chatted with some of us few minutes to when she was murdered.
She was a twin to Magdalene Palma, in our prayers, pls pray for her mother, siblings, twin sister, her mates/friends, students/colleagues,
Pray for the reporse of her soul and the pepertratos of this evil to face their loo.

Published at:
12:43 PM, 19/06/2018 (8 months ago)
Author:

onuigbo felicia
Problem with this article? Please email reporter[at]naijapals[dot]com or visit our contact page
---