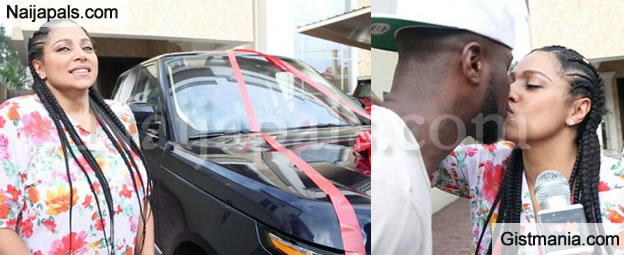 Lola Omotayo-Okoye has shared how she felt when her husband, Peter Okoye A.K.A Mr P surprised her with a Range Rover 2016 SUV at their house in Park View Lagos.

Lola who was away at work got a surprise call from her husband who told her to rush home because he had a special gift to present to her.

Hurriedly, Lola Omotayo-Okoye got home to a waiting crowd of celebrities, family and friends who cheered on as she got the keys to the brand new ride from her husband.

Speaking to Wotzup ONTV, Lola who struggled to catch her breathe revealed how excited she felt receiving the Range Rover gift from her husband, Mr P.

"Well, I'm really… I'm super excited. I can't really even… I'm really shy, so don't take my shyness for not being surprised. I'm surprised and really, really excited. I can't believe it," Lola Omotayo-Okoye said.




When asked about what could have motivated her husband to carry out this wonderful gesture, Lola emphatically said:

"All my hard work na, all these years. I deserve it (laughs happily). Peter, I love you every, very much. I'm so, so grateful for this… I'm shocked. Thank you so much, I really appreciate this,"" she said.,




She later appreciate her husband with some lovely words and a special kiss in the full glare of family and friends who were excitedly cheering them on.
Watch her speak below

Problem with this article? Please contact us
---