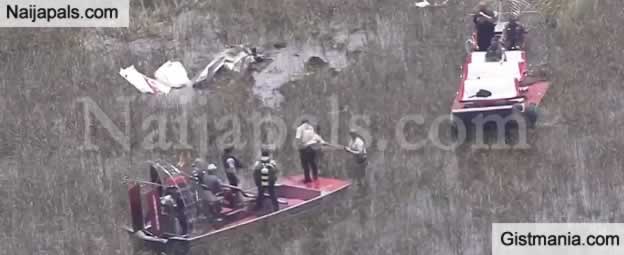 At least three people have died after two planes crashed above the Florida Everglades.
Miami-Dade Mayor Carlos Gimenez told the Miami Herald that the planes collided in midair Tuesday afternoon.
Miami-Dade Fire Rescue was responding to an area south of Tamiami Trail, which runs through the Everglades connecting South Florida to the Gulf Coast.
Gimenez said both planes were with Dean International Flight School, which operates out of Miami Executive Airport in the southwestern part of the county.
The two planes, Piper PA-34 and Cessna 172, collided midair Tuesday afternoon
Miami-Dade Police Spokesman Alvaro Zabaleta said the planes may have been operated by trainers.
'Preliminary information that is coming into our homicide detectives is that the two planes were possibly training, which leads us to believe that you have a pilot and a trainer or trainer and a student, and in another plane a trainer and student,' Zabaleta said.
The Federal Aviation Administration said the Piper PA-34 and Cessna 172 crashed about nine miles west of the airport.
Officials with Miami-Dade Fire Rescue used an airboat to get into the site, according to Local 10 News.
Further investigation into the deadly crash is underway
The news station reports there have been had 23 incidents that required investigation within the past 10 years at the training school.
'Our crews were actually out here this morning, training for incidents such as this in the anticipation of aircraft accidents or incidents,' Miami-Dade Fire Rescue Chief Andy Alvarez told Local 10 News.
Florida Highway Patrol closed the road, though Alligator Alley to the north remained open.
The names of the three victims killed weren't immediately released.
It wasn't clear what caused the collision.