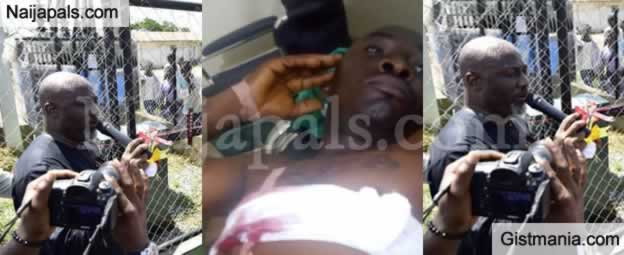 The Kogi State Police Command has summoned Senator Dino Melaye to report at the State Criminal and Investigation Department after his armed guards fired on a team of policemen on patrol duties in the state.


A police sergeant was the victim of the shooting, the police said and is recuperating in the hospital. The Kogi Police Command asked Melaye to report at the SCIID office in the state capital, in the company of his armed guards, as the investigation began on the shooting.

According to the police, their statement, signed by DSP William Ovye Aya, the PRO, was partly to refute Melaye's allegation that he was shot at by the police. On the contrary, the police said that Melaye's guards opened fire first, with the police responding.

In posts on Instagram, Melaye did not mention any shooting incident. However, he claimed the police tried to block his convoy with a grader, parked on a bridge, while he was on his way to Yagba east to commission some projects. According to him, his convoy avoided the blockade.


In another Instagram post, the senator representing Kogi West said the state government barricaded the road to stop his movement.

It was on Twitter that the senator claimed an attempt was made on his life during the visit to his state.

He claimed over 20 bullets were fired at his jeep by a combination of policemen, men of the Special Anti-Robbery Squad (SARS) and the military.



Quote

"I thank God for spearing(sic) my life once again. Over 20 bullets holes on my jeep. Combination of police, SARS and military. God, I thank you.



The police statement reproduced below contradicted his account:


Quote

"Today, at about 1530hours, a team of policemen from the Command was on a routine Anti – Robbery/Kidnapping patrol along Aiyetoro Gbede – Mopa Road.

"During the patrol, and as it is often the practice, the team pinned down at a point at Iyah Gbede Junction, where they were observing the highway and occasionally conducting Stop and Search.

"It was in this process a long convoy of vehicles coming from Mopa towards Aiyetoro Gbede approached the Point. Officers of the Command at the Point flagged down the convoy. While the lead vehicle, a Toyota Hilux van, which was later discovered to be conveying officers of the Nigerian Security and Civil Defence Corps, stopped to introduce themselves, other vehicles in the convoy dangerously zoomed off without regards to the safety of the officers on ground.

"Surprisingly, some plain clothed armed men, occupying a white Toyota Hilux van, without registration number, without provocation fired gunshots at the officers of the Anti-Robbery /Kidnapping Patrol Team.

"One of the officers, a Sergeant, was hit by bullet on the right part of his chest as a result of which he sustained grievous injury.

"The Officer is currently lying critically ill in the hospital where he has undergone a live threatening surgery and currently recuperating.

"Expectedly, the policeself-defencedefence responded by firing back to repel the unexpected attack. Vehicles in the convoy nevertheless, drove away from the scene. It was not until the officers of the Nigerian Security and Civil Defence Corps were questioned that it was realised that the convoy was that of Senator Dino Melaye.

"It is rather unfortunate that the Senator could after this dastardly act by his aides, be going around with armed men, unknown to the Command who could launch such a lethal attack on police officers in the course of their normal duty.

"It is more saddening that the Senator could turn around to issue misleading statements to cover up the heinous crime committed by his hired aides.

"While, the command has instituted a high powered investigation panel into the incident, Senator Melaye is hereby advised to report with people in his convoy to the office of the Deputy Commissioner of Police, State Criminal Intelligence and Investigation Department, Lokoja to assist in the investigation."
Problem with this article? Please email reporter[at]naijapals[dot]com or visit our contact page
---