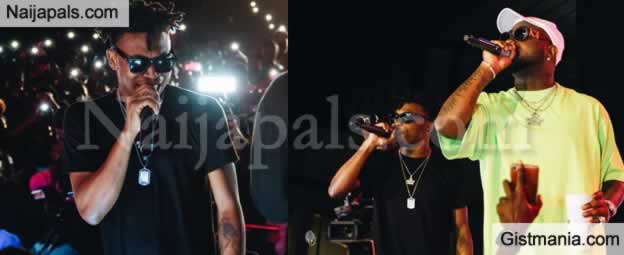 Davido Music Worldwide artist, Mayorkun performs before a crowd of 13,000 at his 'Mayor' concert series to Ibadan.
The "Mayor of Lagos" concert which began last year in Lagos as a means of promoting the brand of the young artist signed to Davido's DMW label was a success that needed to be spread to other cities.
This time, around it was the turn of the ancient city of Ibadan over the weekend and the concert turned out to be quite historic.
Headlining the event which held at the Palms Shopping Mall, Ibadan was Mayorkun and the concert was blessed with support performances from heavyweights like Davido, Duncan Mighty and Small Doctor.
The night also witnessed performances from his DMW label mates, Idowest, Dremo, Peruzzi, Ichaba, Yonda, alongside L.A.X, Terri, 1da Banton, Lyta and more.
The concert saw Mayorkun entertain fans with songs from his armoury of hits; as he performed 'Eleko', 'Mama', 'Bobo', 'CheChe', 'Sade', and 'Love You Tire', and later joined by the DMW stars for hits like 'Mind' and 'Prayer'.
Allegations of wreckless sex at the event
The aftermath of the concert has been marred with allegations of open sexual misconducts by those who attended the event, with some accusing the singer of failing to provide adequate security, to this Mayorkun has denied, releasing a statement to clarify the situation.
''Regarding reports of wreckless sex, the United Nations Population Fund was on the scene to encourage safe sex and family planning hence disturbed condoms, which were toyed with by fans.''


MAYORKUN
@IamMayorKun
So iPlanned to see 5000 to 7000 people yesterday but iWas shocked to see 13,000 people
MAYORKUN
@IamMayorKun
Replying to @IamMayorKun
iWas ready to perform 2-3 hours before iPerformed, but iPromised maximum security so as soon as iGot news on how packed the mall was, had to get more security.
MAYORKUN
@IamMayorKun
The entrance planned for me to use was already jam-packed, Had to go beg the mall to open the back gate for limited cars to come in.
MAYORKUN
The entrance planned for me to use was already jam-packed, Had to go beg the mall to open the back gate for limited cars to come in.
MAYORKUN✔
@IamMayorKun
And as regards condoms everywhere, apparently there was a sex awareness program going on in the mall.
a member of Mayorkun's team, Sakpaide Ogaga, who further stated that, ''We had people from the United Nations Population Fund who actually shared the condoms and people were tearing it open and blowing it up as balloons, that is what people saw and started saying people were having sex.
It was a free event, so things went a bit out of hand as people turned the condoms into a game and it was littered on the floor, this was what people recorded and put on social media, but there were no incidences like that at the event at all.''
On the alleged altercation between one of Davido's bodyguard and a member of the crowd, he states;
''There was a fight, but it was simply between two people in the crowd, it had nothing to do with Davido or any member of his team, Mayorkun was even the one who paid for the hospital bills of the person'', he says.
The 'Mayor' series will be moving to Abuja in August.