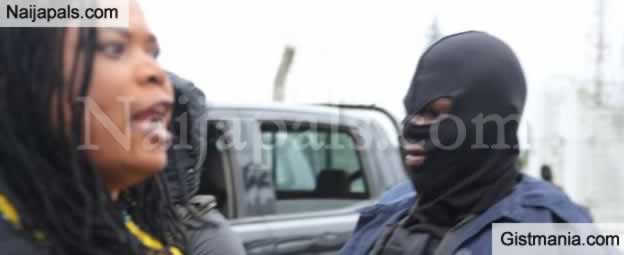 A member of the House of Representatives, Boma Goodhead, dared operatives of the Department of State Services (DSS) to shoot her when she was prevented from gaining entrance to the National Assembly complex on Tuesday, August 7, 2018.
DSS operatives took over the complex early on Tuesday and prevented lawmakers and journalists from gaining access into the premises in what many believe to be a plot to implement the impeachment of Senate President, Bukola Saraki.
In a confrontation with the masked operatives, Goodhead, a representative of Asalga/Akulga federal constituency of Bayelsa State, dared them to shoot her.
In a video making the rounds, she could be heard saying, "Shoot these bullets and Nigerians shall face you. I dare you to shoot these bullets. Go back to your station, go back to your station.
"You cannot come here and embarrass us and also oppress us here. Was this the same thing Jonathan did to Buhari? If Goodluck had done this, would Buhari have become a president? You cannot do this to us. Start shooting at us. Have you heard?
"You come here with masked face, bullets in your guns, to intimidate who? Enough is enough in Nigeria."


Lawmakers were later allowed entrance into the complex, but uncertainty remains on how the rest of the day will turn out.

CLICK HERE TO WATCH VIDEO!

Posted: at 7-08-2018 11:21 AM (3 years ago) | Hero