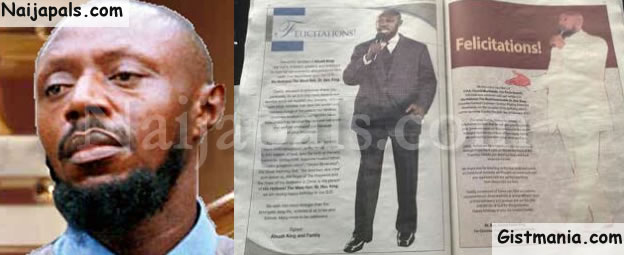 The Advanced People Democratic Alliance (APDA) has said that the party may adopt the convicted General Overseer of Christian Praying Assembly Chukwuemeka Ezeugo, simply known by his sobriquet, Rev. King, as its presidential candidate for the 2019 election.

Rev King has been convicted for murder and awaiting execution at Sokoto Prison. However, two weeks ago, his campaign posters indicating his presidential aspiration flooded the streets of Lagos. Chairman, Publicity Committee of the party, Brady Chijioke Nwosu, who is also a gubernatorial aspirant in Imo State on the same platform, told Saturday Sun that Rev. King is helping in mobilising people for the party, as he has a very large followership in the country, all of who are already identifying with the party. He, however, noted that the clergyman would go through primaries like other aspirants.

When reminded that Rev. King has been sentenced to death and still awaiting execution, he dismissed it, saying, there are examples of those who have come out of jail to assume high political offices in the country. His words, "Forget about his conviction, he was innocent of the matter for which he was sentenced to death. It was a set up and phantom. How many courts have convicted those who have looted the country? He didn't do anything. He is running for presidency, and his poster is everywhere.

"Obasanjo was also in prison and came out to become the president. Even former Abia State governor, T. A. Orji won governorship election while in prison custody. If Obasanjo could become president, then why not an innocent man that was set up and sentenced to death? Even before Rev. King was convicted, the media had already jailed him in the court of public opinion. So, it wasn't easy for the judge not to follow the public opinion.

"Three months before the trial began, somebody from one of the most respected law chambers, whom I 'm going to name at the appropriate time, told me that plans have been concluded to hang a death sentence on him. The trial had not started by then, which means he had already been sentenced to death before the trial.

"This is Nigeria, even the people who have looted this country blind and brought misery to the people have not been sentenced to prison, but people conspired to jail a clergyman of repute. For what?"

On how the clergy was going to go through the party primary while still in jail, Nwosu, who had three times aspired to govern Imo State on the platform of Peoples Democratic Party (PDP), said, Rev. King was already filing his nomination form.

"If we like we may adopt a direct primary, and people will vote. I will keep on using Obasanjo as an example; he hadn't anything to do with politics. He had only N20, 000 in his account, but some people, including you and I, mobilised and put him there, as president in 1999. If such a thing could happen, why not Rev. King? He is filing his party nomination form, and he is going to pass through primary. I have given you instances of those who were in prison and became president and governor, so what is the big deal about it, how much more, a clergyman; a prophet of God that was framed up and sentenced to death?"

Will he be ruling from jail if he wins? The APDA publicity chairman, said, "let us cross the present hurdle first, until we get there." On what will happen if he is executed before the election because he is at the mercy of Lagos State government? Nwosu retorted: "Nobody has the power to do that. He didn't do anything, so, why must they execute him?
"How many of the big people who have destroyed this country that the court has jailed. Obasanjo has he died? He is still celebrating. Chief Awolowo was even in jail and when he came out he was made the Vice President to Gowon and Minister of Finance. What of a clergyman man who didn't do anything, but sentenced to death. He is innocent of the offence for which they sentenced him to death.

"People volunteered to paste the campaign posters, not even members of the church, who are in full support of King's aspiration. People are massively supporting him, outside members of his church. The Northern youths are in full support of him. You will see what will happen.

"Who are those people in Jos that put Obasanjo as their presidential candidate? Were they not people outside? What of Chief Awolowo, was it not from jail that he was made the Vice President and Finance Minister? Nelson Mandela was convicted and he came out to become a president. At the appropriate time, Mandela was released by the same power that put him there, and ditto Rev King, at the appropriate time the same power will release him.

"When he comes out for the election, those interested will vote for him.

The presidency is open, and anybody can grab it. Jonathan was a president and a new party came and threw him off. Anything is possible. In fact, Rev King is the next president." Reacting to this development, right activist and former Chairman of the Nigerian Bar Association, Ikeja Branch, Monday Ubani, said, the idea was a joke taken too far.
---
Posted: at 25-08-2018 12:44 PM (2 years ago) | Addicted Hero