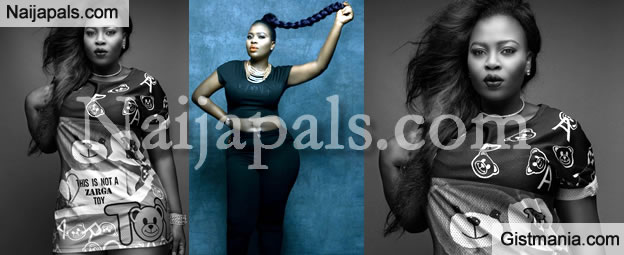 Nollywood actress, Bimbo Thomas whose stardom story began with Funke Akindele's film, "Omo Ghetto" has revealed that there are few actors she could kiss on set.

Bimbo Thomas named famous Yoruba actor, Femi Branch as one actor she has a crush on and had kissed in a film.

"The most memorable kiss I had on set is with Femi Branch in a film we played lovers and we kissed, in the movie, Femi had his back turned at me and said something, instead of me responding in words, I grabbed him and kissed him, even the director was stunned, he is my friend though and I know his wife," she said, mentioning other actors that catch her fancy.

"There are still few actors I admire and would like to kiss. Internationally, I would like to kiss Idris Elba, but lately I have had a crush on Terence Howard, and locally, I would like to kiss John Dumelo, she quipped.



The actress also told Vanguard's correspondent, that the craziest thing she has ever done in a movie is to kiss, saying that is farthest she could as far as acting is concerned. On going Nood, Bimbo Thomas who studied Creative Arts at University of Lagos, said going Nood is not an option.

"Going Nood is not an option for me. I can never go Nood," she said.

This is coming after the actress debunked allegation that many actresses prostitute, to back up their acting careers.

"When people say things like that, I feel it's their opinion, which they have a right to. I have a lot of guys as friends and I know that they like actresses, maybe because they can boast with it that they're dating famous people.

There are many girls out there who can do whatever they like without public scrutiny, but it's not so for actresses. But why would someone who is famous be prostituting when the attention of the whole world is on you? It doesn't make sense. Being famous deprives one of doing certain things. If anyone calls me with a strange number and starts saying funny things like I like you, or I have so and so uncle I want you to meet, I just block the person's line straight away."
---
Posted: at 2-09-2018 07:28 AM (2 years ago) | Addicted Hero