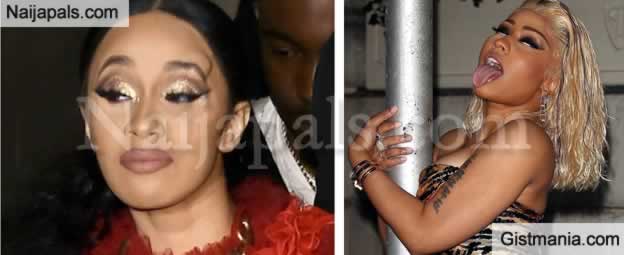 Days after been stoned with shoes by Cardi B, Nicki Minaj has shared her side of the story on Monday in a new episode of her Queen Radio show on Apple Music's Beats 1. She said:
"The other night, I was a part of something so mortifying and so humiliating to go through," Minaj said, noting the "upper echelon" crowd that witnessed their fight. "The way they passed by looking at this disgusting commotion, I will never forget. I was mortified."
"I would never talk about anyone's child or parenting. I don't care about anyone's parenting. I don't give a s--t and it's so crazy to me that people always need to make Onika the bad guy," the rapper defended herself in response to Cardi's accusations. "I just want to let the world know that Onika Tanya Maraj would never, has never and will never speak ill of anyone's child."
"I am not a clown," she declared. "That's clown s--t."
The star did not mince words as she further questioned Cardi's alleged recent behavior.
"You came into my f--king culture. I never had to f--k a DJ to play my songs. You calling black women roaches," she shouted. "You getting girls beat up because of what your man doing? Real bitches never do that—you never attack the woman...you take that up with your f--king man," Minaj continued, referencing unconfirmed allegations that Cardi had people attack two strip club employees after husband Offset allegedly cheated on her with one of the women. The star has reportedly denied such such claims.

"You're angry and you're sad. This is not funny and this is not about attacking. This is about get this woman some f--king help. This woman is at the best stage in her career and she's out here throwing bottles and throwing shoes? Who the f--k is going to give her a f--king intervention?"


---