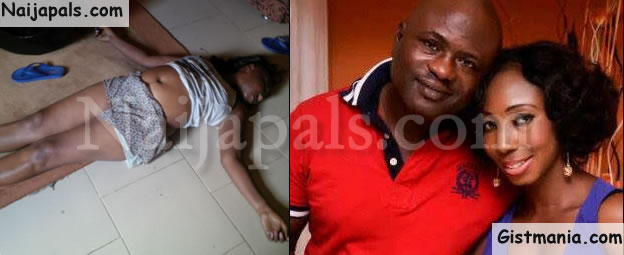 In the ongoing trial of Lekan Shonde,the husband of the late Ronke Shonde who was found dead in her home and It is believed that he had beaten her to death during a domestic dispute in their home.

The Pathologist has revealed how the dockworker allegedly murdered his banker wife

Dr S.S. Soyele, who is a medical pathologist at the Lagos state university teaching hospital told an Ikeja High Court on Tuesday that , the banker Ronke Shonde had suffered severe brain injuries which led to her death.He revealed the results of a post-mortem examination, conducted on Ronke, while being led in evidence by Mr Y. G. Oshoala, the lead State Prosecutor. According to vanguard, it was discovered during the autopsy that the deceased's brain was heavy, swollen and filled with water and it was highly unlikely that the deceased inflicted the injuries on herself because of the multiplicity of injuries.

"The deceased died from respiratory failure, caused by cerebral edema (swollen brain), caused by a blunt force trauma to the brain," he said. "A bruise was found on her left jaw. During autopsy, it was also discovered that the deceased had black eyes (pupils) a tell-tale sign of brain injury. "We opened up the body and brought out all the organs. We also opened up the skull to bring out the brain. Blood collection was discovered in the skull, just beneath the skin. Ronke's autopsy revealed that she had suffered past injuries to her brain. "We took samples from the hemorrhage (bleeding) in the brain, which suggest past trauma." he added.

At the previous court proceedings on Sept. 20, Ronke's sister, Miss Bolatito Bewaji, had revealed during her testimony that Ronke had approached a lawyer to file for divorce on the day she was allegedly murdered by Lekan. She also revealed to the court a history of domestic violence Ronke had endured from Lekan.

Justice Josephine Oyefeso adjourned the case until Oct. 24 for continuation of trial.

Ronke Shonde was killed in 2015.
Published at:
08:21 AM, 26/09/2018 (4 months ago)
Author:

kacy lee
Problem with this article? Please email reporter[at]naijapals[dot]com or visit our contact page
---