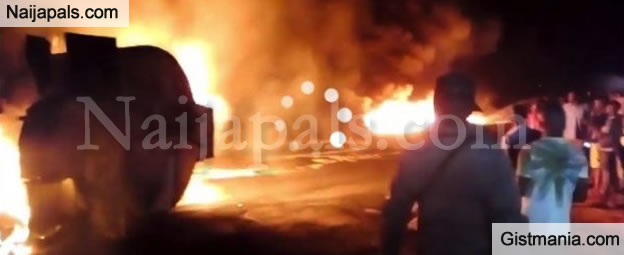 Reports just reaching us has it that a tanker carrying fuel has exploded in Akure, the Ondo State capital.

Eyewitnesses have said six people died in the inferno. A correspondent of Sahara Reporters, who was at the scene, also learnt that at least five vehicles were caught in the fire.
The explosion occurred on Wednesday evening at the Shagari Village junction along the Ilesa/ Owo Federal Highway.

The accident, which happened on Wednesday, was caused after the tanker swerved off the road and emptied its content.

Although the number of casualties have not been officially confirmed, eyewitnesses said six people died in the inferno.




A correspondent of Sahara Reporters, who was at the scene, also learnt that at least five vehicles were caught in the fire.

The location of the accident is a short distance from the Nigerian National Petroleum Corporation (NNPC) mega filling station in Akure, the Ondo State capital.

Eyewitnesses blamed the accident on the impatience of the tanker driver.

One of them said;

"The fire incident was caused by an articulated petrol tanker coming from the Lagos road, which lost control. Many people driving from the other side of the junction were all trapped as the petrol tanker immediately went up in flames.

"Although, we don't know the figure of those involved, but I am very sure that the occupants of a Toyota car that hit the petrol tanker have been burnt to ashes."
Problem with this article? Please contact us
---