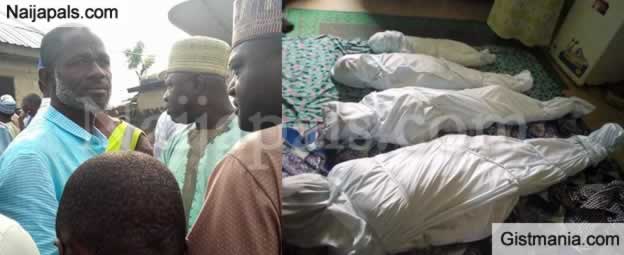 A man who lost his wife and three children has buried them amid tears in Minna, Niger state. A man who lost his wife and three children in a fire outbreak which occurred on Monday at Bosso metropolitan area, few kilometres outside the state capital, Minna, Niger state, has buried them according to Islamic rites.

The deceased were buried amid tears in their hometown.

It was gathered that the outbreak was caused by a strong electricity power surge from the public power grid to the area which sparked off fire on the house where the victims were accommodated.

The resultant fire according to those living in the immediate neighbourhood was so overwhelming as the fire spread and engulfed the house before assistance could reach those trapped inside the apartment.

According to reports, spirited efforts to fight the fire were unsuccessful as the apartment was secured with the occupants trapped inside while access into the house was hindered by the surging fire.

When help finally came, the fire had killed four members of the family, roasting them alive and left other members of the household with various decrees of burns as they narrowly escaped death.

The lucky survivors were rushed to the Intensive Care Unit of the Minna General Hospital where they were admitted and are undergoing treatment.

Problem with this article? Please contact us
---