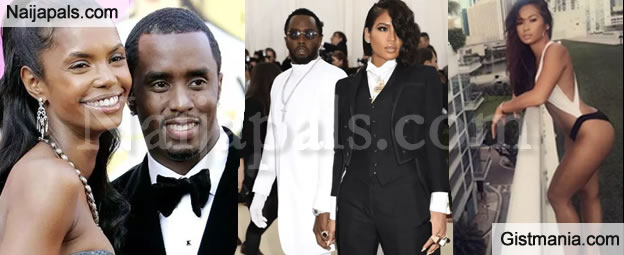 Following his split from singer/actress Cassie amidst cheating rumours and the arrival of his latest flame, we are exploring Sean "Diddy" Combs's relationships over the years.
Below is a look at the long list of women that the OG playboy has been linked with.

Jocelyn Chew



26 year old Jocelyn Chew is Diddy's latest flame. The model who is of Canadian, Chinese and Icelandic ancestry has been seen hanging out with Diddy. They even went to a Drake concert together.

Gina Hunyh



Gina Hunyh is one of reasons behind Diddy's split with Cassie. According to reports Diddy and Gina hit it off last year, but when Cassie found out the relationship was dissolved and Cassie and Diddy made up. They recently got back together Cassie was having none of it so she put an end to their relationship.

Cassie



32 year old Cassie Ventura allegedly started dating Diddy in 2007 but kept it under wraps and didn't formally announce it until 2012. The couple who were together for 11 years refuted engagement rumors although Diddy has said in an interview that he would love to start a family with the actor/singer. The two split early this month amidst cheating allegations.

Cameron Diaz



They had a short, bizarre affair. Diddy who once called Cameron Diaz the sexiest woman in the world dated her between 2008 – 2012. The relationship was filled with a whirlwind romance that burned out fast.

Tracey Edmonds



They reportedly had a thing around 2008 although both parties have shut the rumour down saying there was no relationship and they were just friends.

Sienna Miller


They were rumoured to have dated in 2007 following Sienna's divorce. She was also rumoured to be the reason Diddy and Kim Porter split.

Karrine Steffans


She wrote in her book that she and Diddy had a thing.

Sarah Chapman


Sarah and Diddy were together from 2004-2006. She's the mother of Diddy's 10 years old daughter Chance. Their relationship like most of the others was controversial because Diddy and Sarah were linked together when he was still reportedly in a relationship with Kim Porter. Although Diddy first refused to accept Chance as his child he officially claimed her legal responsibility in October 2007.

Emma Hemming


They had a thing, following Diddy's split from Jennifer Lopez in 2001.

Jennifer Lopez:


JLo and Diddy were an item between 1999-2001. Their tumultuous relationship was marked with cheating allegations. JLo allegedly hunted him down to hotel rooms, banging doors. She also opened up about the relationship saying she was always crying and never happy because Diddy who was then known as Puff Daddy wasn't a faithful partner.

Kim Porter


Kim Porter and Diddy have been together the longest. She is often described as the great love of his life. The model was with Diddy from 1994-2007 – 13 years although it was on again and off again. She is the mother of three of his kids, Christian and twins, D'Lila and Jessie. Her son from her first husband, Quincy, was also raised and adopted by Diddy.

Misa Hylton


Diddy's first baby momma. Misa who was Diddy's high school sweetheart is the mother of his first child Justin, who was born in 1993. The two started dating when Misa was 17.

Aubrey O'Day


Industry insiders strongly believe that the singer had a thing with Diddy.

Penelope Cruz


The Spanish actress and model also allegedly had a thing with Diddy.
---