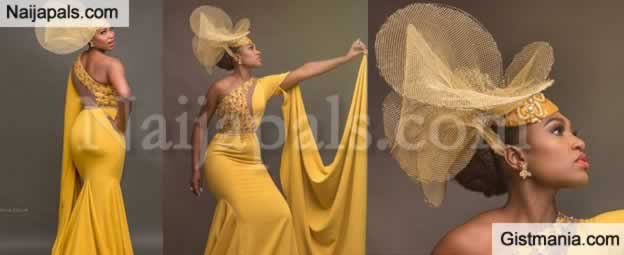 Ufuoma Stacey McDermott who is a Nigerian film-maker, actor and former model has reminded us that she is still very much around with alluring photos of herself in a yellow gown.
Ufuoma, 37, has welcomed her thousands of fans into the new month of November with colourful professional photos of herself.

Aside her beauty and stature, Ufuoma has a well-structured behind and she flaunted it for the camera in the flowing gown.

Ufuoma was born in Benin City to Nigerian parents who hail from Delta State in Nigeria. She moved a lot - from Benin City to Jos, where she spent the better part of her toddler years, and later to Lagos, where she has lived for the greater part of her life and still resides till date.


At the age of seven, her father coined a pet name for her: ISIO (which means "star" in Urhobo). She was so named after the star actress of the TELEFEST programme put together by NTA Benin, The Pot of Life.


Ufuoma got married on 23 April 2010 to Steven McDermott.

Problem with this article? Please contact us
---