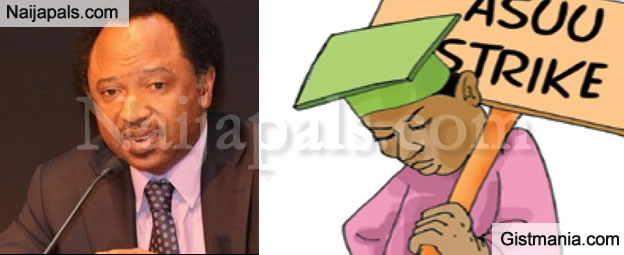 Nigerians have taken to social media to react to the indefinite strike declared on Sunday by the Academic Staff Union of Universities (ASUU) over the non-implementation of the Memorandum of Action (MOA) signed with the Federal Government.

ASUU President, Prof Biodun Ogunyemi said, "having waited patiently for action and meaningful negotiation with reasonable men using the principle of collective bargaining that ASUU at its NEC meeting of 3rd and 4th November 2018 at the Federal University of Technology, Akure (FUTA) resolved to resume the nationwide strike action it suspended in September 2017 with immediate effect.



Quote

"This strike will be total comprehensive and indefinite. Our members shall withdraw their services until government fully implement all outstanding issues as contained in the MOA of 2017, and concludes the renegotiation of the 2009 agreements.

"We have today been subjected to 20 years of continued re-colonization under alleged democracy in which all that the ruling circle have been regrouping among themselves in their various faction they called political parties."



But many Nigerians, including Sen. Shehu Sani (PRP – Kaduna Central) and former Director General, Bureau of Public Sector Reforms, Dr Joe Abah, have thrown their support behind the union's action.

However, other Nigerians lamented the frequency of strike action by the union.


I share the belief that ASUU strike is a peaceful & justifiable action to save public universities in https://t.co/zEhmIPesN4 70$ per barrel,Nigeria can afford to adequately fund public univ.Elites in power who can afford to educate their wards abroad, should have some honour.

— Senator Shehu Sani (@ShehuSani) November 5, 2018
On ASUU, we shouldn't be in a position where ALL the lecturers in ALL our public universities can withdraw their services at the same time. As is often the case, the problem is structural and successive governments refuse to address it, letting down helpless students. Sad.

— Dr. Joe Abah (@DrJoeAbah) November 5, 2018
- ASUU gave reasons why they declared indefinite nationwide strike

1. Failure on the side of the government to honour the memorandum of action signed between the union & the federal govt in 2017
2. Renegotiation with ASUU which the Govt. intentionally ignored with impunity. pic.twitter.com/92tBGbQgSf

— SubDeliveryZone (@SubDeliveryZone) November 5, 2018
NLC has being shouting about Strike for a week now but no Strike.

ASUU came out of nowhere and announced indefinite Strike.

LMAO... These are the real World class strikers no be by mouth.

— •C A V A L I E R (@uthman_waxcav) November 5, 2018
ASUU strike today, ASUU strike tomorrow, after the whole stress, NYSC stress will set in and afterwards no employment....
Me am suggesting we sell this country oo maybe to USA or Canada and we all share the money

Who is with me on this? pic.twitter.com/PQHtRZlMUr

— Honormeh Aganga's Blog (@Honormeh_aganga) November 5, 2018
Another ASUU strike . I just hope this current one doesn't take as long as the one I experienced in 2013.

— Jayeola Abass (@jayebros) November 4, 2018
---