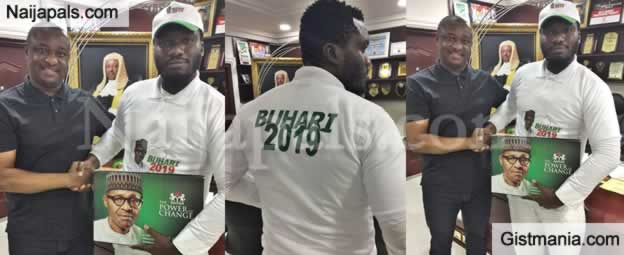 The son of GEJ's former senior special assistant and a PDP supporter, Doyin Okupe has declared support for President Muhammadu Buhari's second term project. A legal practitioner, Ditan Okupe, who is the son of Dr. Doyin Okupe, a former senior special assistant to former president Goodluck Jonathan, has on Thursday, declared support for President Muhammadu Buhari's second term re-election.


Dr. Doyin Okupe, who is a member of the Peoples Democratic Party (PDP), an ardent supporter of Alhaji Atiku Abubakar for the 2019 presidency, and was recently appointed by Senate President and ex-presidential aspirant of PDP, Bukola Saraki, as the chairman of the Media Council for his campaign organization.


In a letter he sent to Festus Keyamo, Buhari's 2019 presidential campaign spokesman, Ditan Okupe, volunteered to join the campaign team of Buhari to ensure the president's victory in 2019.
He described Buhari as the best candidate for the top job, adding that everything must be done to prevent the PDP and its cohorts from returning to power next year.

Below is his letter to Buhari's 2019 campaign office;


Meanwhile, Festus Keyamo (SAN), who received Ditan in his office after accepting Ditan's application, shared some photographs of them together and wrote:


Quote

"Breaking ranks with their fathers for PMB: Ditan Okupe, 1st son of Atiku's man, Doyin Okupe, a UK-trained lawyer of 12 yrs post-call in Nig, volunteers to work 4 PMB's campaign team just like OBJ's son. Nigerian youths note: Atiku's salesmen cannot even sell him to their children."



While reacting to his son's decison to join the Buhari campaign team, Okupe tweeted:



Quote

"Ditan okupe is my Son. He is a very brilliant young man. He went to Kings college, Lagos, Burkinham university, UK & did post graduate in law at theLondon school of economics. We both have had serious issues in the last 5yrs. This may be his way of getting back at me. I wish him luck."

In another Tweet, Doyin Okupe added, "Keyamo is my friend & lawyer.he is still handing a case for me at the supreme court.He called me tonite on his acquaintance wt Ditan who also has been trying 4 months 2get d contacts of people he considers my political foes,incl Tinubu, kashamu, OGD etc.4 him dis is his finest hr."
Problem with this article? Please contact us
---