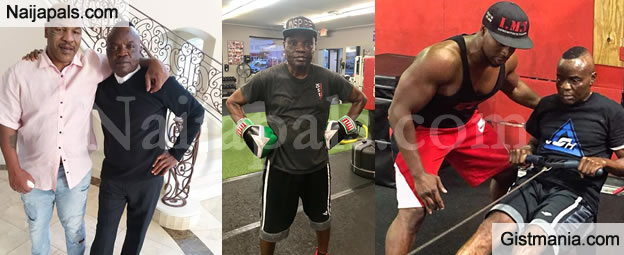 It was a memorable experience yesterday as Chief Rommy Ezeonwuka who left Neptune-New Jersey to Nevada-Las Vegas a few days ago, met with the former American professional boxer; Micheal Gerrard Tyson.

The 63-year-old self acclaimed Igbo spiritual leader and member of the All Progressives Grand Alliance(APGA) Board of Trustees (BoT), was at Mike Tyson's residence at 7th hill Nevada in Las Vegas where he met with, and also, spent a quality time with the former heavyweight champion who was very delighted to have him around.

Mike Tyson competed for twenty (20) years (1985 to 2005) and reigned as the undisputed world heavyweight champion. He also holds the title of the youngest boxer to win the heavyweight champion; a feat which he achieved at the age of 20.

Since arrival to the United States, Chief Rommy took a keen interest in boxing. On several occasions, he has been spotted at EzeFit in New Jersey observing very serious workout sessions on boxing and general fitness practices.

His meeting with Mike Tyson has been described by various quarters as a welcome development and a significant move by Ogilisi, given the complexity associated with striking an appointment with the heavyweight champion who is now retired.

Speaking about his meeting with Mike Tyson, Chief Rommy maintained that boxing is an important aspect of fitness and should be widely encouraged.




He noted, however, that it is really a sad thing that boxing is gradually going into an unfortunate extinction in a country where legendary boxers hail from; the likes of Dick Tiger, Samuel Peter, Hogan Bassey, Ike Ibeabuchi and numerous other boxers known in their days for their massive strength and unending energy.

Nonetheless, he hinted on his plans to revolutionize boxing in Nigeria upon his return.


---